Ebony Escapes! to Santa Barbara
We started this summer California road trip series in the beautiful city of Santa Monica, driving in a Jucy Rental, a New Zealand-based travel company that operates a fleet of retrofitted campervans featuring a 1950s-inspired mascot called "Jucy Lucy." From there it was just a short one and a half hour drive north to Santa Barbara.
Dubbed "The American Riviera," Santa Barbara rests right along the beautiful Pacific Ocean coastline just 92 miles north of Los Angeles, 249 miles from Carmel and Monterey and 332 miles south of San Francisco. Its location makes it very easy to get to via the Pacific Coast Highway/Highway 101, as well as by plane into the Santa Barbara Municipal Airport, bus or train.
But before all of this modern technology, there were numerous groups whose influences helped make the city what it is today.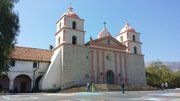 Early History
The original inhabitants of the area were the Chumash Indians, said to be very adept at water travel and who forged a very prosperous and self-sustaining existence, living off the natural resources of the nearby Channel Islands as well as the land.
In 1542, Portuguese explorer Juan Cabrillo arrived here, giving the city its now iconic name, followed by Spanish Franciscan monks in the 18th century. The latter were instrumental in teaching the Chumash how to utilize their varied talents more effectively to take advantage of the area's topography, which started the agricultural boom here. In fact, an estimated 80 percent of all domestically grown and sold flowers in the U.S. come from Santa Barbara County.

The Franciscans arrival here was part of their quest to found numerous missions in California, eventually building 21 in all with three in what is now Santa Barbara County.
By the early 1800s, California had come under Mexican rule, and in 1846, Santa Barbara officially became a U.S. territory. In the century that followed, Santa Barbara was shaped by the California Gold Rush, a military presence during World War II, and its resurgence after devastation from two major earthquakes in 1812 and 1925.
It is all of these early influences and historic events that have shaped Santa Barbara into a truly unique travel destination, not only in California but also in the U.S. Folks from all walks of life come here to enjoy its rich history, cultural entities, wealth of activities, agriculture, picturesque landscape, great weather and more.
Santa Barbara Today
Santa Barbara is a very pedestrian–friendly and bike-friendly city. One of the best ways to get around as a tourist is to embark upon a Santa Barbara Trolley tour. These very reasonably priced, narrated, 90-minute hop-on, hop-off tours offer loads of historical, educational and personal insights into the various beaches, sites, attractions, neighborhoods and shopping and dining districts in and around town.
On the tour, you won't help but notice one of Santa Barbara's most appealing aspects—its dramatic Spanish Revival architecture, which can be found in many of its historic structures, homes, businesses and the like. The most prominent of these, literally, is Old Mission Santa Barbara. Built in the early 1800s and situated in a picturesque hillside with awe-inspiring views of the entire city and the Pacific Ocean beyond, it was the 10th of the California missions founded by the Spanish Franciscans. It is known today as the "Queen of the Missions," and visitors will find remnants of the original and rebuilt adobe buildings, the magnificent centerpiece church, a mausoleum, museum, retreat center and gift shop.
The Santa Barbara Courthouse, built in 1926, actually replaced a Greek Revival-style courthouse damaged in the massive earthquake of 1925. Operating as the seat of local government since 1850, the courthouse draws visitors from around the world to view the spectacular craftsmanship and colors found in its mural room, law library, hall of records, clock gallery and observation tower.
Founded in 1932, the Santa Barbara Historical Museum presents a wide array of permanent and temporary exhibitions, education, research and publication offerings spanning more than 500 years of history, including collections from the Chumash, Mexican, Spanish and American periods, making it a wonderful entity in which to learn about the development of the area. The structure is significant in part because it is housed in a steel-reinforced concrete and adobe structure built in 1965, constructed in the adobe plaster-style using bricks made on site.
Other architecturally significant structures and features in town include the Casa de la Guerra, Hill-Cabrillo Adobe, Santa Barbara Museum of Art, El Presidio, Lobero Theater, Orena Adobes and El Curatel, among others. Many of these entities can be found while embarking upon the 12-block Santa Barbara Red Tile Walking Tour, which features 17 stops and 22 historic adobes dating from the 1700s through the 1800s, a great number of which were built in the Spanish Revival and Moorish architectural styles.
Another highly visited attraction here is to the Channel Islands National Park. Only accessible by a short boat ride or small airplane flight, the park, created by Congress in 1980, encompasses five of the eight California Channel Islands—Anacapa, Santa Cruz, Santa Rosa, San Miguel and Santa Barbara—and is home to the oldest dated human remains in North America. The biologic diversity here features more than 2,000 plant and animal species, of which 145 are found nowhere else in the world, plus a wide array of marine life, including the migration of the blue whale. Activities here include exhibits and gallery spaces at the visitor center, camping, sea kayaking, hiking, camping, whale and bird watching and other activities.
There is a great deal more to see, do and enjoy in Santa Barbara coming up.
Lysa Allman-Baldwin writes for numerous online and print publications, including as the cultural travel writer for www.Examiner.com and as a senior travel writer for SoulOfAmerica.com, an Afrocentric travel website. Lysa can be reached at lallmanbaldwin@kc.rr.com.