The Funk Brothers, Motown stalwarts
Herb Boyd | 8/14/2014, 3:59 p.m.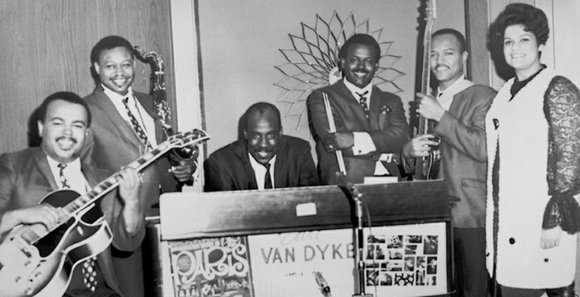 "Get on Up," the new James Brown biopic, is a film of incessant funk. On Broadway, there is more funk, if a bit more subdued, in "Motown the Musical." Any mention of Motown evokes the memory of the Funk Brothers, an amalgam of background musicians who were invisible until the 2002 film "Standing in the Shadow of Motown."
There is not space here to profile all of the many Funk Brothers—among the most recorded members were Earl Van Dyke or Johnny Griffin on keyboards; Benny Benjamin, Uriel Jones or Pistol Allen on drums; James Jamerson on bass; Robert White, Joe Messina or Eddie Willis on guitar—but the core was Van Dyke, Benjamin and Jamerson, all of whom are with the ancestors.
Activities
Find out more: As we've discovered here, "Standing in the Shadow of Motown," both the book and the film, is the best introduction to the musicians other than acquiring a discography and listening to the funk masters.
Discussion: It took a slew of years before studio and session musicians were given credit for the creativity that often occurred during the recordings, especially from musicians who were well-grounded in improvisation.
Place in Context: From the late 1950s to the late 1960s, the Funk Brothers were studio musicians on more than 250 copies of Motown records. They were also among the best jazz musicians in Detroit during this period.
Van Dyke (1930-1992) was a versatile musician, comfortable in just about every genre, but his heart was in jazz, even if he saved his "soul" for Motown. With such jazz greats as Barry Harris, Hank Jones and Tommy Flanagan as his idols, the Detroit-born and raised Van Dyke developed his style within the city's daunting piano tradition. An early indication that he was equal to the challenge occurred in the 1960s, when he was the organist on the Blue Note label with saxophonists Ike Quebec and Fred Jackson. In 1962, he replaced Joe Hunter in Motown's in-house band, which, at that time, was not called the Funk Brothers.
Some Motown lovers feel that Van Dyke was at his funkiest best on Marvin Gaye's classic "I Heard It Through the Grapevine" and on the Temptations' "Run Away Child, Running Wild." But it was in the nightclubs of Detroit that he gave full expression to his affinity for jazz, and some aspect of that can be heard on his recording "The Motown Sound."
Motown Records, according to Van Dyke, "was just a gig to us. All we wanted to do was play jazz, but we had families, and at the time playing rhythm and blues was the best way to pay the rent." Later, in "Standing in the Shadow of Motown," he admitted that they often interpolated jazz phrases and riffs that were essential elements in their jazz repertoire, especially the creativity derived from improvisation during their jam sessions.
Benjamin (1930-1969) gave the Funk Brothers that singular beat, or backbeat, some would argue. Like many Detroiters, he was a native of Alabama, but it was the city and its working-class intensity and urban energy that supplied Benjamin with the rhythm he perfected. "Papa Zita" was his nickname, and it may have had something to do with the zing or the Latin flavor he would sometimes add to that "pop" Stevie Wonder referred to when praising his playing. "Just listen to all the old hits, 'My World Is Empty Without You' or 'This Old Heart of Mine,'" Wonder recalled. Or, for that matter, on any of the other 250 million-plus copies of Motown records where he and his cohorts performed.