A hilarious franchise in the making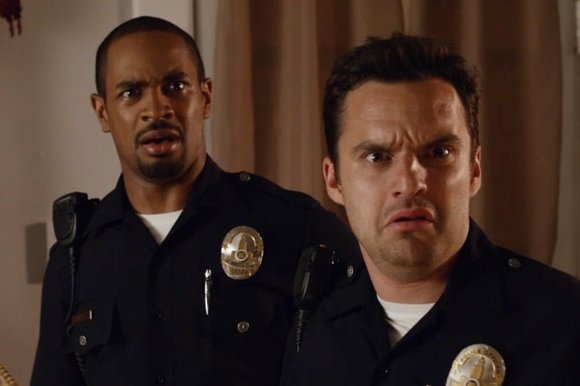 "Let's Be Cops" is being positioned as the "ultimate buddy cop movie"—except that the leads, Justin Miller (Damon Wayans Jr.) and Ryan O'Malley (Jake Johnson), aren't cops! In fact, these two misfits aren't making much of a positive dent in life. The words "aimless," "unmotivated" and "tragically delusional" could easily, and accurately, be assigned.
Thirtysomething Ryan, still reveling in his glory days as a college quarterback, bounces from job to job—his appearance in a herpes drug commercial a career pinnacle.
Equally aimless is nerdy nice guy Justin, who toils at a videogame company, where his insipid bosses prefer half-baked zombie antics instead of his recent game proposal that features real-life cops in adrenaline pumping, realistic crime scenarios.
A college reunion with a pseudo-masquerade party theme inadvertently changes the trajectory of Ryan and Justin's humdrum lives. Thinking it's a costume bash, they sport the LAPD uniforms that Justin used in his recent failed video game pitch.
After being ridiculed, the two best friends are quickly reminded of their status on life's totem pole. Then, they notice something has changed as they walk down the streets of Hollywood in uniform: Sexy women swarm them, the criminally minded follow their every silly command and bartenders give them drinks on the house, all because they are mistaken for cops.
For Ryan, who seems allergic to responsibility and devoid of moral guidelines, the illusion of power is the ultimate high and, like any addict, he pushes for more. Justin, who suffers from chronic low self-esteem, has a slightly better grasp of the situation but can't muster the courage to stop his buddy.
Ryan raises the stakes when he purchases a police car (off eBay), complete with lights and a radio scanner. Now the misguided boys are rolling up to real 911 calls.
Justin isn't completely immune to the abuse of authority and ignites a romantic liaison with a young waitress named Josie (Nina Dobrev). As their flirtation heats up, he finds himself vying for her affection against Euro-mobster Mossi Devic (James D'Arcy), along with his pack of thugs.
Bad goes to worse. Justin and Ryan stumble into a dangerously complicated operation littered with murderous mobsters and dirty cops. Bullets fly like confetti—fake cops, real trouble.
The idea for "Let's Be Cops" was born when director/cowriter Luke Greenfield decided to spend Halloween in a police officer's uniform, a choice that had unexpected consequences.
"My costume designer got me a real LAPD uniform, and my buddy and I walked around Los Angeles," Greenfield shared. "The sense of power and authority was incredible."
This comedy is flat-out hilarious. A special treat is the appearance of Keegan-Michael Key ("Key and Peele") as a reality challenged Domican "drug informant" with an unusual sense of sentimentality.
The film is directed with skill, shot with a keen eye and edited with a modern and surging pace. The screenplay is equally well constructed and the music supervision under Christophe Beck and Jake Monaco, who collaborated on the score, compliments an already impressive film. Beck was behind the score of the Golden Globe- and Oscar-winning film "Frozen."
This action comedy isn't perfect, despite the high caliber of the team, because in my opinion, the lack of consequences that the lead characters experience for their continued and escalated bad behavior is zero. It's just not addressed, much like finding Asian and Black characters on TV in the 1950s!
When Justin—peer pressured driven—takes a hit of crystal meth, the sequences that follow—although hilarious—make it seem like the drug isn't illegal, devastating and highly addictive. And when Ryan casually details the number of times he's used that drug and others, the film leaves the impression that it's "OK" to party because nothing bad happens, much like in a video game.
Greenfield is a prolific filmmaker, and I suspect, based on the audiences reaction at the advance screening, that the "Let's Be Cops" franchise is forthcoming.
That prediction on record, I'm hoping for a better moral compass in the next round, so the comic jab, "Let's Go to Rehab," won't litter the Twittersphere.
This is a comic gem, but fact is fact: You impersonate a police officer and you go to jail, and crack, no matter how many well delivered jokes are piled on it, is still "whack."