Is police brutality a national epidemic?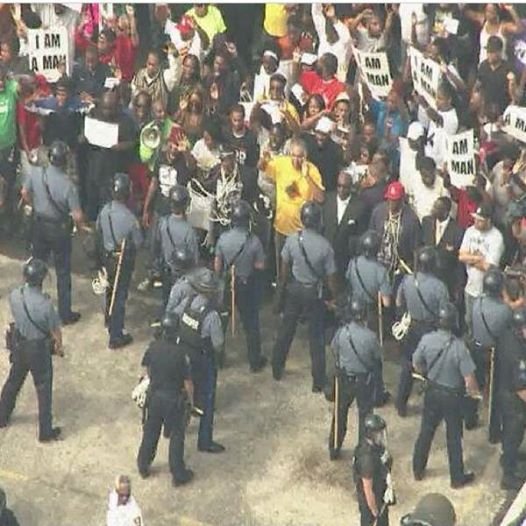 While heavy armored vehicles roll down the streets of Missouri, the outrage simmering dangerously over the shooting death of unarmed teenager Michael Brown has gone viral.
"Stop the killer cops!" is the cry from angry protestors in Missouri, but it could quite easily be the chant on the streets of Staten Island after the chokehold death of Eric Garner or the yell of grieving protestors in South L.A. after the shooting death of mentally handicapped Ezell Ford Monday.
The national crisis of the "epidemic" of police misconduct is leading to "broken windows" of a different type, rather than New York Police Commissioner Bill Bratton's policy justifying the NYPD code of conduct.
Almost a week after the police shooting death of Brown in Ferguson, Mo., fires are still burning, and there are still daily confrontations betweens cops and the enraged community. Indeed, Ferguson is alight with fury as that community responds with anger to the latest police shooting. Several days of animated reaction have taken over the streets, with images of defiant and challenging protests, youths running through stores, tear gas, and riot shield confrontations with fully armored cops flashing daily on TV screens and swamping the Internet.
The community's anger is palatable, even on these New York streets in the wake of Garner's death and the chokehold assault of seventh-months pregnant Rosan Miller, to name just two headline incidents. Across the nation though, emotions are mirrored, what with an allegedly prone and compliant Ford being shot in the back by an LAPD officer.
Brown was killed by police Saturday, yet authorities are still withholding the name of the officer. Ferguson Police Chief Thomas Jackson decided against releasing the officer's name Monday after social media and phone threats targeted another officer who was falsely named as the killer.
Jackson told the Associated Press that the officer had been with the force for about six years and was patrolling his assigned area when he saw Brown and Dorian Johnson walking in the street. Witnesses say that a scuffle ensued after the officer asked the teens to move to the side. Brown's hands were reportedly raised when he was shot multiple times.
At least four people, including two officers, suffered injuries at a vigil for the teen, and 47 people were arrested in the aftermath of an officer-involved shooting. Reports say 300 police officers from at least 15 different departments were called to Ferguson when angry crowds began smashing windows, setting fires and looting businesses in the area.
Michael Brown Sr., the teen's father, called for people to refrain from violence. "I need all of us to come together and do this right, the right way, so we can get something done about this," he said.
"Don't be a traitor to Michael Brown in the name of 'you mad,'" said the Rev. Al Sharpton at a press conference with other African-American leaders this week. "Don't betray the gentle giant that Brown was by allowing your anger over his killing to lead to violence."