Tap+Cork 2014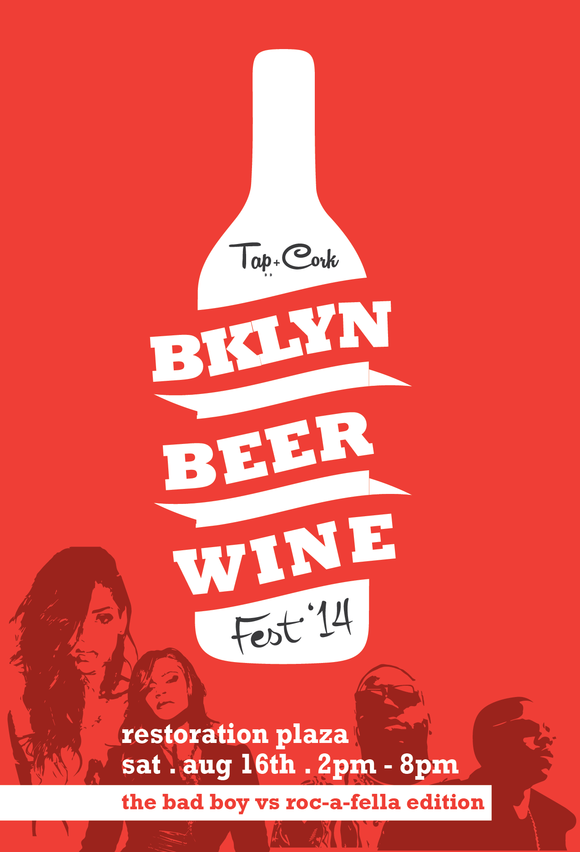 I don't know how I missed the first one, but it is time for the second annual Tap+Cork (@TapCork) Brooklyn Beer & Wine Festival! It all goes down this Saturday, Aug. 16, 2-8 p.m. at Restoration Plaza, Brooklyn. This year's event is expected to have more than 1,000 thirsty guests ready to sample craft beers and regional wines, along with bites from local eateries.
"Last year, the beer and wine programs were heavily curated through major distributors. This year, we're looking to give more local, micro and nano brands an outlet to consumers," explained Fernando Grierson, marketing director for Arts+Crafts, the co-production and marketing team behind the festival. Among the featured brewers are KelSo, Crabbie's Alcoholic Ginger Beer (a sponsor), Barrier Brewery, Samuel Smith and Dyckman Brewery. Wineries include Martine's Wines, Brooklyn Oenology Winery, Croteaux Wineries and Brooklyn Winery.
And what is drink without food? Tap+Cork adds plenty to eat from curated food vendors such as Bella Torte and Marcus Vineyard and many more local Brooklyn favorites. It will be a great opportunity to learn about and experience pairing your food with your drink.
Should drinking not be your thing but '90s hip-hop is, Tap+Cork plans to take you back … back … back to celebrate the impact of label superpowers Bad Boy and Roc-A-Fella, who changed the musical, cultural and fashion landscapes of New York City. The Brooklyn-based House of Art Gallery will display renowned artist Justin Bua's prints of Notorious B.I.G. and Jay-Z from his book "Legends of Hip-Hop."
It's a full sensory experience at this year's Tap+Cork: Brooklyn Beer & Wine Festival. Tickets are on sale now at www.tapcorknyc.com/tickets. See you there!