Tarrytown nuptial retreat
Talking SCHOP!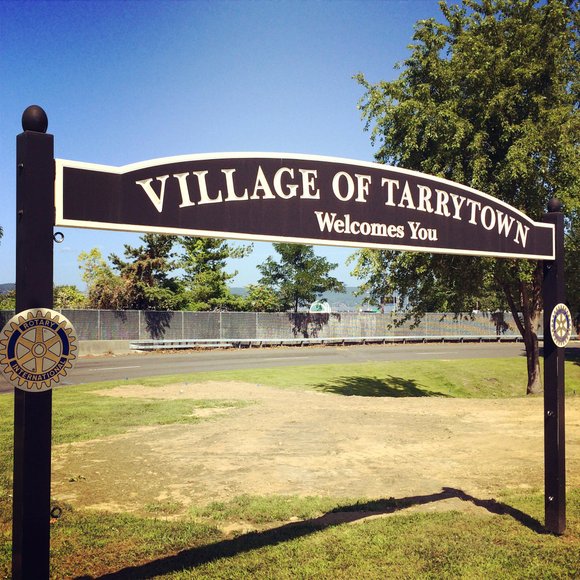 August is a great time to get out of the city. New York, and the tristate area in general, has so much to offer and is only less than a couple of hours away to boot. Having a Metro-North stop right at 125th Street is yet another great reason to be a Harlemite. Any of the towns along the Hudson can prove to be a unique excursion and respite from the bustle of the city.
Tarrytown was my respite this past weekend. It would be my first time back since I was a child. I don't know why it took me so long, but it was right on time to celebrate the wedding of one of my dearest friends and her high school sweetheart. It was a fantastic weekend filled with friends, family, laughter and food, all for Marjorie and Sam.
Like all great weekends begin (with the end of the work week), we celebrated Friday night at Ruth Chris Steak House (670 White Plains Road) after a successful rehearsal at the church. We sat in our private room and perused the prix fixe menu until our server came to give us the 411 on how the evening would run.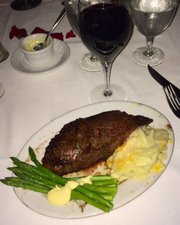 The meal started with traditional Caesar salad while we sipped on our respective cocktails, wines and beers. Then the main courses arrived, of which I had the New York strip served medium. However, the scalding buttered plates made it a little more medium-well. Still, the simple preparation of salt, pepper and grill made the meat sing. It was served with gratin potatoes and petite asparagus with hollandaise. It is the steak dinner to have when the mood strikes.
For dessert—cheesecake! Not just any cheesecake, but really good, perfectly balanced cheesecake for one (which should serve four people). I made my way through what I could and, like most of our party, took the rest back to the hotel.
The next day, Saturday, was wedding day! I was hyper with excitement and expectation. The best way to quell those feelings was to walk into town, look around and get something to eat before I had to begin getting ready.
Twenty minutes later, I found myself on Main Street asking a local where to eat. She definitively said Sweet Grass Grill (@SweetGrassGrill, 24 Main St., Tarrytown, 914-631-0000, www.sweetgrassgrill.com). Saying no more than a "thank you" and "have a nice day," I made my way down the street.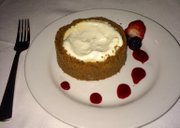 Once at the restaurant, a lovely couple, Mary and Sam, let me sit at their table for four, as it was the last one outside on what was a cloudless and glorious day. I perused the menu filled with seasonal and local ingredients and settled on the farmer's breakfast bowl. The dish was exactly what I needed to calm and fortify me for the day. Ground local pork chorizo sausage, cheese and spinach mixed into creamy grits and topped with two eggs over easy, I let those yolks do their unctuous job. A glass of fresh lemonade on the side made for a great palate cleanser.
It was time to walk back to the hotel to change but not before I took a stroll down the hill to the Hudson to reflect on the day and what would be a magical ceremony, a stunning black-tie reception at the breathtakingly beautiful Sleepy Hollow Country Club and a surprise performance by hip-hop legends Brand Nubian at the after-party!
A very special congratulations and thank you to Marjorie De La Cruz and Samuel Boben! It was a grand weekend that won't soon be forgotten! Salud y felicidades!
Happy eating and thanks for reading!
Kysha Harris is a food writer, culinary producer, consultant and owner of SCHOP!, a personalized food service offering weekly and in-home entertaining packages. Questions? Comments? Requests? Feedback? Invitations? Email her at kysha@iSCHOP.com, follow her on Twitter and Instagram @SCHOPgirl and on Facebook www.facebook.com/SCHOPnyc. For even more recipes, tips and food musings, subscribe to her blog at www.talkingSCHOP.wordpress.com.