Eric Garner: Grand jury to look into case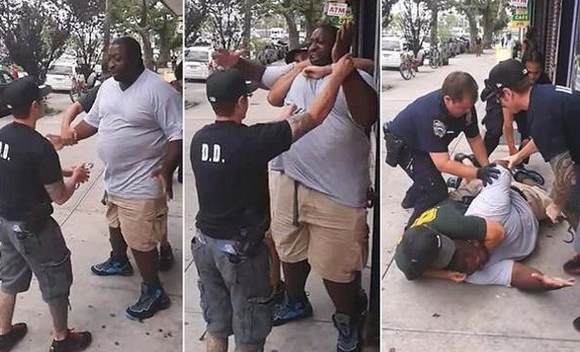 Reports indicate that Staten Island District Attorney Daniel Donovan is convening a special grand jury to look at evidence in the death of 43-year-old Eric Garner.
"I have determined that it is appropriate to present evidence regarding the circumstances of [Eric Garner's] death to a Richmond County Grand Jury," Donovan said in a statement. "Yesterday, the Court granted my application for the impaneling of an additional Grand Jury and I intend to utilize that Grand Jury sometime next month to begin presenting evidence on this matter."
The grand jury will determine if charges would be filed against Officer Daniel Pantaleo who put Garner in an apparent chokehold killing him.
The killing, which took place in the Tompkinsville section of Staten Island, happened in July when Garner was being confronted by police for allegedly selling loose cigarettes. Witnesses also said Garner had just broke up fight.
Ramsey Orta, a bystander, was on the scene at the time and recorded the incident on his cell phone. The video has been widely shared on the internet resulting in heavy criticism of the NYPD for using the illegal chokehold.
"New York City deserves an investigation into the Garner case that is fair and complete. We are pleased that with today's announcement, the legal process is now underway," Mayor Bill de Blasio said in a statement Tuesday.
Garner's death was ruled a homicide on Aug. 2 by the city's medical examiner citing neck and chest compressions. The Patrolman's Benevolent Association (PBA) and Sergeants Benevolent Association (SBA), the two major police unions, deny the use of a chokehold by Pantaleo and dispute the medical examiner's findings.
"We are encouraged that this process is moving forward, and we are confident that a fair and impartial grand jury that is allowed to conduct its deliberations based on facts and not emotion or political considerations will see that justice is served," said PBA President Pat Lynch.
The Rev. Al Shapton's National Action Network, the UFT, 1199 SEIU and the NAACP are planning a protest march scheduled for Saturday in Staten Island.
Sharpton said he is meeting with Loretta Lynch, United States Attorney for the Eastern District of New York, on Thursday about Garner's death.