Family, politicians, community demand justice for police-slain Ramarley Graham
8/21/2014, 10:28 a.m.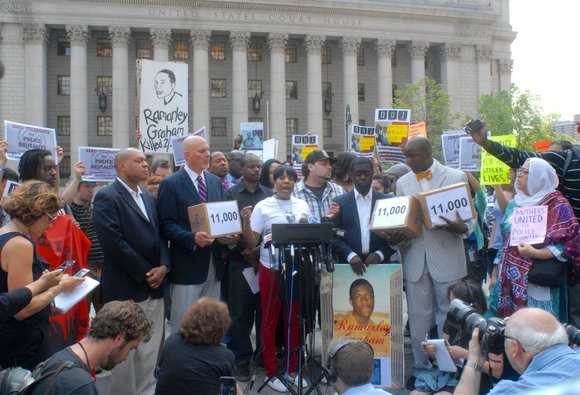 Ramarley Graham's parents, Constance Malcolm and Francelot Graham, held a rally Wednesday to deliver thousands of petitions demanding U.S. Attorney General Holder and Preet Bharara open a full DOJ investigation.
After a year of a DOJ "review" into the 2012 NYPD killing of unarmed 18-year-old Graham in front of his 6-year-old brother and grandmother in the Bronx, the family led a vociferous crowd in Foley Square, demanding a full investigation on civil rights violations and a meeting with Bharara. Joining them was NYS Assembly Member Karim Camara, chair of the Black, Puerto Rican, Hispanic & Asian Legislative Caucus, members of the Malcolm X Commemorative Committee and many activists calling to mind the recent police killing of Michael Brown.