Get on the Justice Caravan
Herb Boyd | 8/21/2014, 10:22 a.m.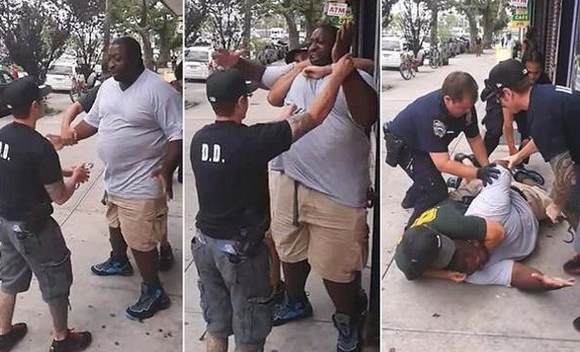 Once again, Americans, fed up with police brutality and racial injustice, will take their protest and demands to Staten Island, crossing another bridge over troubled waters. This time, Saturday, Aug. 23, civil-and human-rights activists will assemble on the other side of the Verrazano Narrow-Bridge, not the Edmund Pettus Bridge over the Alabama River, as marchers did in 1965. But 2014 is looking more and more like 1965, with the police killings of Eric Garner on Staten Island and Michael Brown in Ferguson, Mo.
"We want the DA to say that he is either going to make an arrest on probable cause or give the case to the feds," the Rev. Al Sharpton announced last week. Since then, Staten Island's DA, Daniel Donovan, announced that the process was underway to impanel a grand jury.
Mayor Bill de Blasio said he was pleased by the development and happy to know "the legal process is underway." He also expressed his concern about the Saturday march, hoping it would be a peaceful one.
He advised the leaders to model the march after the one in 2012, in which he was a participant, to change the NYPD's stop-and-frisk policy. "It was the decisive moment in crystallizing support for change in the stop-and-frisk policy," he said in a release early this week. "There will be a lot of security provided for this march."
NAN's Saturday Action Rally Aug. 23, beginning at 9 a.m. will take place at Mt. Sinai United Christian Church at 15 Pike St. The march will begin at noon at Bay and Victory streets and proceed to the Staten Island DA's office at 130 Stuyvesant Pl. Marchers will then cross to Richmond Terrace and Hamilton Avenue for the rally.
Justice Caravan bus departure locations are listed below (to get a seat you must confirm reservations).
Brooklyn:
Fort Hamilton Parkway at 100th Street.
New Jersey:
Fred Erxleben Recreation Center, 513 Richmond St., Elizabeth, N.J. (The center is located one block from the Goethals Bridge.)
Public Transportation
Staten Island Ferry: Departs Manhattan and Staten Island every 30 minutes.
Trains to SI Ferry Manhattan terminal: 1 to South Ferry,
4 and 5 to Bowling Green, J to Chambers Street.
Buses to SI Ferry Manhattan terminal:
M5, M15, M20, M15SBS.
Directions from SI Ferry Staten Island terminal to march start site:
When exiting the SI Ferry terminal make a left on Richmond Terrace.
Richmond Terrace turns into Bay Street. Stay on Bay Street and end at Victory Street (roughly a 12-minute walk).
For more information, call (877) NAN-HOJ1 (626-4651).