Grace Jamaican jerk festival hots up NYC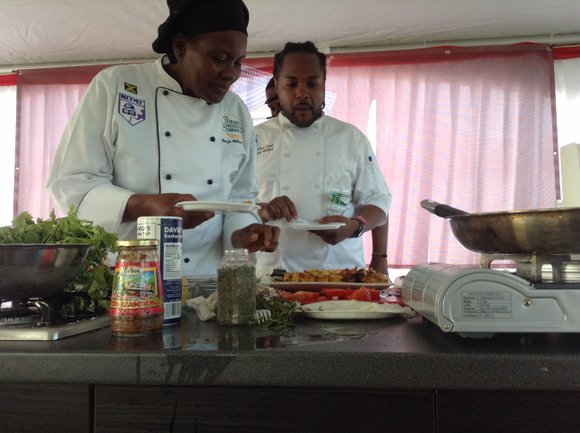 New York City's 4th Annual Grace Jamaican Jerk Festival heated up Roy Wilkins Park in Queens Sunday, July 20. Never was so much family-friendly fun had by so many. The place was "ram" with each and everybody from the tristate and beyond. Some folk traveled from as far as Canada to partake in the world famous jerk cuisine.
Last year's festival attracted some 16,000 satisfied patrons, said Florida-based promoter Carlton "Eddy" Edwards, co-founder of Jamaican Jerk Festival USA, Inc.
He told the Amsterdam News, "We are extremely pleased with the continued success of the Grace Jamaican Jerk Festival in New York. We strive to deliver an enjoyable experience for our patrons, featuring the culinary, cultural and musical traditions of Jamaica, and by all indications, we have accomplished our goal. We are very thankful for the support from the community and look forward to being on their list of 'must attend' summer events each year."
The spices from the proud jerk chefs enticed the palate, and they dashed them on the chicken and the pork. Added were Jamaican staples such as fried bami and hard dough bread, festival and, of course, patties. No one was giving up the specifics of their blends, but many vendors promised that their jerk meat was the best in the park. There were so many choices, and culinary competitions whetted the palate.
I took a vegan friend with me, and although he refused to be tempted by the terrific smells of the meat, he did yam up the coconut and the mango.
When folk weren't waiting patiently in line, laughing, joking and deciding from of a menu of extensive Jamaican fair, they were perhaps ear-hustling the powerful beats emanating from the stage.
Last year's Celebrity Jerk Cook-off winner, Mayor Bill de Blasio, did not defend his title, because he was on vacation in Italy. So, in the Grace Jamaican Jerk Festival Cook-off, State Senator Kevin Parker, 21st Senate District tried to put his foot in his dish, but—quelle surprise—the crowd cheered just a little louder for Scherie Murray, Republican State Committee Woman, 29th Assembly District. The audience hollered that they should be the judges as well as the celebrity chefs.
Meanwhile, a bouncy castle, storytellers and face painting made The Kidz Zone popular with the families with young pickneys.
The Caribbean Cultural Stage brought traditional oral and folk performances. And on the main stage, hosting and keeping folk bent double with laughter, was the very funny, Ragashanti.
Headliner, Maxi Priest, danced around the stage like a man in his twenties, as he swept up the crowd in a selection of many of his classics, such as "Some Guys Have All the Luck," and "Close to You." Maxi belted out tracks from his new album "Easy To Love," and blessed the crowd with his special blend of of reggae, lover's rock and pop. The crowd knew every lyric of tunes like "Wild World" and "Housecall," which have made him a household name across the globe.
Jamaican reggae songstress Etana brought "roots and riddim" to a hyped-up crowd, who really couldn't get enough of her sweet delivery. The very vocal audience eagerly awaited their favorite tracks, as well as samples from her new album, "Better Tomorrow" (VP Records), recorded at Kingston's legendary Tuff Gong Studios.
Mr. Vegas tantalized the crowd with his energetic hits, and as he romped around the stage with his spit-fire antics, the crowd, from toddlers to the elder young-at-heart, bounced right along with him.
VP Records set up an informative exhibition under a cool tent, where visitors could reflect on some of Jamaica's greatest artists. And the option to buy memorabilia was, of course, offered.
History, culture, cuisine, music and fun could be the tag line of the Jerk Fest.
We could have been in Montego Bay, Ochirios, Kingston or Negril. Eagle-eyed visitors ran to the corporate row to pick up samples and give-aways from event sponsors.
And for sure, you could not miss the big-bout-yah Grace Jamaican Jerk Festival New York collaborators, the Jamaican Jerk Festival U.S.A. Inc. and VP Records, and sponsors Western Union, the Jamaica Tourist Board, Vitamalt and Tower Isle Frozen Foods. Media sponsors were the Jamaica Gleaner, Irie Jam Media, Street Hype and WBLS.