Imhotep's Guide to Black Events: August 21-27, 2014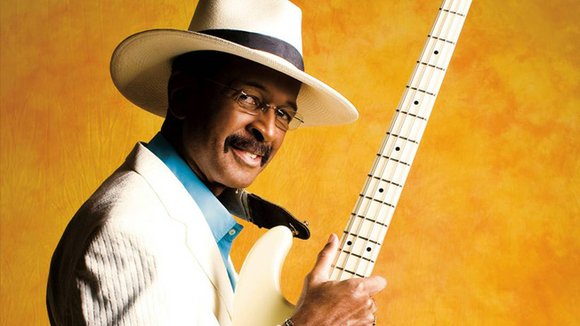 Greetings! We took a moment to celebrate Marcus Mosiah Garvey's birthday and the 100th anniversary of Universal Negro Improvement Association, as noted in our Radio GBE. Several of our radio guests helped us remember, including Garvey performance artiste Ron Bobb Semple; Tony Best, senior editor of The New York Carib News; and Lloyd Williams of The Greater Harlem Chamber of Commerce.
We also send out very heartfelt condolences to the family of Brother Taharqa Aleem, singer and keyboardist, whose twin brother, Tunde Ra Aleem, recently passed. Together they were the vocal group Aleem. The musically talented brothers also worked as the Ghetto Fighters, with artists from Jimi Hendrix to Rick James and Kashif.
Theater
"Lady Day at Emerson's Bar & Grill," a tribute to jazz legend Billie Holiday, features multi-Tony Award winner Audra McDonald channeling Billie's classic moods and melodies now through October 2014 at Circle in the Square Theater, 1633 Broadway. For information, call (212) 239-6200 or visit ladydayonbroadway.com.
"Motown: the Musical," book by Berry Gordy Jr., is now playing at the Lunt-Fontanne Theatre, 205 W. 46th St. (between Eighth Avenue and Broadway). For tickets, visit ticketmaster.com or motownthemusical.com.
"Kinky Boots," featuring 2013 Tony Award winner Billy Porter, is at the Al Hirschfeld Theatre, 302 W. 45th St. For more information, call (866) 276-4887 or visit: broadway.com/shows/kinky-boots.
"Aladdin" features James Monroe Igleheart, 2014 Tony Award winner for Best Featured Actor, as the uniquely modern genie at the New Amsterdam Theatre, 214 W. 42nd St. For information, visit broadway.com/shows/aladdin-broadway.
"The Lion King" has smashed records, evolving into the highest grossing show, a visually stunning affair, creating a realistic and thrilling landscape, with actors dressed as wild animals and encompassing their characters in a spectacular, goose–bump–producing performance that keeps audiences coming back time and again to the Minskoff Theatre, 1515 Broadway. For information, call (212) 869-0550 or visit minskofftheatre.com.
Music
The amazing Chaka Khan, featuring the 10-stack Thunder Sound System, performs Saturday, Aug. 23, at 9 p.m. at the Hammerstein Ballroom, 311 W. 34th St. WBAI's Tony Ryan of Soul Central Station is special guest host. For tickets, visit ticketmaster.com.
The legendary Isley Brothers, featuring Ronnie Isley, appear at the Grand Theater at Foxwoods Resort Casino, Mashantucket, Conn. Saturday, Aug. 23 at 8 p.m. For tickets, visit ticketmaster.com.
The "Smooth Cruises" sail on a new night, Thursdays, and feature Rachelle Ferrell Thursday, Aug. 21 and Boney James Thursday, Aug. 28. Boarding begins at 5:30 p.m. and 9 p.m. on the Hornblower Infinity, departing from Pier 40, located at Houston Street at the West Side Highway. For information, visit marqueeconcerts.com.
Funkmaster Larry Graham, legendary bassist for Sly & the Family Stone, is back at B.B. King Blues Club & Grill, in the heart of Times Square, Thursday, Aug. 29 at 8 p.m. Call (212) 997-4144 or visit bbkingblues.com.
The Blue Note,131 W. 3rd St. in the West Village presents the brilliant DeDe Bridgewater, Friday, Aug. 29 to Sunday, Aug. 31. For more information, call (212) 475-8592 or visit bluenotejazz.com.
Jazzmobile's 50th anniversary free summer concert series "SummerFest" wraps up Friday, Aug. 29 at Marcus Garvey Park on the Richard Rodgers Amphitheater stage, with an all-percussion tribute to Max Roach by the Eli Fountain Percussion Discussion, led by Warren Smith, and special performances by some of the most talented percussionists playing today, including Bobby Sanabria, Eli Fountain and Jay Hoggard. Jazzmobile at 50 Summerfest is dedicated to Dr. Billy Taylor. For more schedule information and details, visit jazzmobile.org.
Film
"Get On Up!," the film treatment of the story of the Godfather of Soul, features the music of James Brown at select theaters. Check listings.
Community
Join master communicator and broadcast activist Bob Law for "Night Talk Live" Thursday, Aug. 21 at Mist in Harlem, 46 W. 116th St. (between Malcolm X Boulevard and Fifth Avenue) Guests include journalists, attorneys, community activists and police organizations. Admission is free. For information, call (646) 688-5886.
The Rev. Al Sharpton's NAN March for Justice and Victims of Police Brutality will take place Saturday, Aug. 23 on Staten Island, with buses and cars forming a "justice caravan" traveling across the Verrazano-Narrows Bridge into Staten Island, and a march to the site of the homicide of Eric Garner. Guest speakers TBA. Be prepared to leave early. For more information, call 877-626-4651 or visit nationalactionnetwork.net.
The 40th anniversary of Harlem Week will be commemorated Saturday, Aug. 23 with the Percy Sutton 5K Run and the NYC Walk saluting the 50th anniversary of the Civil Rights Act in solidarity with the Saturday afternoon "Staten Island March for Justice." In the spirit of the walk-run, Harlem Week will honor Imhotep Gary Byrd of WLIB-WBLS-WBAI with a special award at 2 p.m., celebrating his 50 years as a New York broadcaster. For the full Harlem Week schedule and more details, visit HarlemDiscover.com.
"The Policing Industry of America: Stop & Frisk, Chokeholds, Murder" featuring Bashir Mchawi, activist-educator and Milton Allimadi, activist-journalist-publisher will be presented Saturday, Aug. 23 at 2 p.m., CEMOTAP Center, 135-05 Rockaway Blvd., South Ozone Park, N.Y. The event is free and open to the public. For more information, call (347) 907-0629.
"As Goes Harlem, So Goes Black New York," a special symposium on the state of affairs and the journey ahead, will take place Saturday, Aug. 23 from 11 a.m. to 3 p.m. at the Adam Clayton Powell State Office Building Art Gallery, 163 W. 125th St. at Adam Clayton Powell Blvd. Key areas covered include "The State of the Black Press," "The State of the Black Church," "The State of Our Health," "The State of Black Business" and "The State of Housing and Gentrification" and a special presentation of "The Economic State of Black New York Report." Admission is free. RSVP at (718) 638-6397.
---
Hear Imhotep Gary Byrd on 107.5 WBLS-FM daily with "Imhotep's On-Air Guide to Black Events" and "Express Yourself," Sunday evenings from 7 to 9 p.m., and on WLIB-AM with "The GBE Mind Flight," Sunday evenings from 9 p.m. to midnight. The full show can be heard on HD radio at WBLS-HD2. IGB is also heard on WBAI-FM 99.5 with Radio GBE: The "Global Black Experience" and "Global Beat Experience," Saturdays from 5 to 7 p.m. We are archived online with both shows at www.wbai.org. To contact us for bookings or to reach us about your event, email igbexp@gmail.com, find Imhotep Gary Byrd on Facebook or follow us on Twitter @GBELIFE or call 212-592-3279.