Miami Swim '15 wrap-up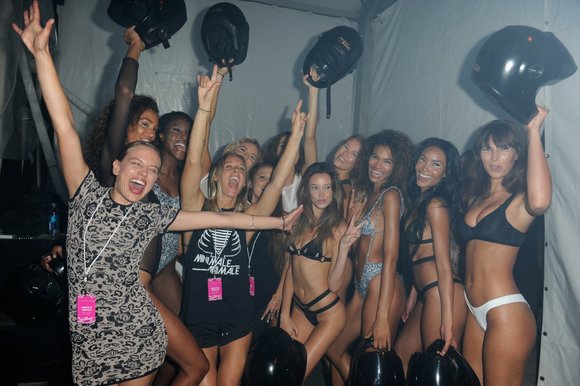 In Miami, it's a wrap for Swim '15 Fashion Week! What's new? The one-piece swimsuit is back. There are lots of sporty silhouettes in the picture. Sexy, easy-breezy maxidresses, captivating caftans, cover-ups and shorts hit the runways. Best looks are maillots, sports-look pieces and print mix-ups. Backs are bare with details such as intricate crochet treatments. Trends move toward patterns in gingham, kitschy fruits, vintage maps, cabana stripes and animal print. Look for wetsuit-like bikinis, sleeved crop tops, asymmetrical structures and lots of cutouts. '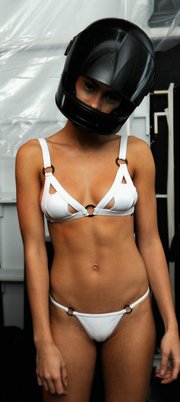 Minimale Animale, a new sportswear collection designed by Cassandra Kellogg, made its debut for Fashion Week. This company has been featured twice in the Sports Illustrated Swimsuit Issue, as well as in magazines such as Exit, Foam, Esquire (UK) and Self Service.
The brand showed a head-turning collection, including mesh tops with plunging necklines and high-cut legs on low-slung bottoms. Animale's line is not for the timid. "The collection is for confident, young-at-heart women who aren't afraid of wearing something striking, and also for those who embrace their natural beauty and are comfortable in their own skin," said the designer. Before the show, cameras caught backstage glimpses of models being styled with accessories such as boots and helmets. In makeup, there was much focus on the eyes.
In design school, Kellogg taught herself how to make swimwear and started to wear her own spandex creations to music festivals, surf spots and her favorite hangout places. She designed swimwear for Ashley Paige and Roxy, but then decided to create her own line. "As a child, I was obsessed with all the things associated with the ocean," revealed Kellogg, who said she never wanted to leave the beach. Now she translates her obsession into Minimale Animale. The line is dedicated to mainstream by way of edgy, sexy, fashion-forward cuts. This show was definitely poised to turn up the heat.