Michael Brown—the world responds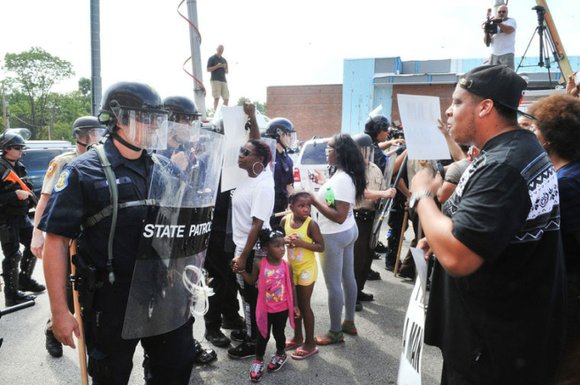 "Arrest Darren Wilson now! Get the warrant, knock down his door, handcuff him, perp-walk him, arraign him, indict him, convict him. Nothing less." These are the words of respected activist Rosa Clemente, teaching assistant at University of Massachusetts Amherst.
Seems like the whole nation—and even foreign countries like Turkey, Syria and England—have a poignant response to the fireball rushing through Ferguson, Mo.
As the world watches the saga in Ferguson unfold, now two weeks since the death of Black unarmed 18-year-old Michael Brown at the hands of a police officer, protest and unrest continue with hopes that the federal government's intervention will cool things.
Funeral arrangements for Brown were announced this week: Services are being held Aug. 25 at Friendly Temple Missionary Baptist Church in Ferguson. The Rev. Al Sharpton is eulogizing Brown.
Videos of clashes with protesters and now the National Guard remain visible to the world. This week several protesters were taken into custody. Tuesday, 47 people were arrested. Reports also indicate that St. Louis County Police fatally shot a 23-year-old man who allegedly wielded a knife at them and threatened to kill them.
The world received information this week on how Brown was killed by Officer Darren Wilson. An independent autopsy by the family reveals Brown was shot six times, with one fatal shot to the head; an autopsy by the St. Louis County medical examiner's office reportedly reveals Brown was shot multiple times and that he had marijuana in his system.
According to Dr. Michael Baden, a well-known forensic pathologist who is also the former chief medical examiner for New York City, Brown was shot six times but the first five shots would not have killed him.
"But often in an investigation like this, it's not uncommon for prosecutors not to want information released, but I think in my experience, when that happens it only gets the community more upset," Baden said at a press conference.
A diagram from the autopsy shows Brown was shot mostly on his left side in the hand, arm, chest, lower neck, chin and eye. The independent autopsy showed no signs of a struggle. Baden, who was hired by the family, also performed autopsies on the shootings of Martin Luther King Jr. and John F. Kennedy.
The Missouri National Guard is now on the streets of Ferguson at the order of Gov. Jay Nixon. According to a press release, police shot smoke canisters into a crowd of nearly 400 people Sunday night. Police in Ferguson say that a Molotov cocktail was thrown at officers and that shots were also fired at police.
"We are all frustrated and looking for justice to be achieved regarding the shooting death of Michael Brown," Nixon said in a statement. "As the dual investigations continue into what happened nine days ago at Canfield Green, we must defend Ferguson from these violent interlopers so that the peaceful protests can operate in peace and the search for answers and justice can continue."
Concerns over Ferguson's use of military-style policing in the aftermath of the Brown shooting still come into question. Many feel bringing in the National Guard could cause even more problems. Black Missouri State Highway Patrol Commander Capt. Ron Johnson is supervising security responsibilities in the city.