Thousands march on Staten Island for Eric Garner
Herb Boyd | 8/24/2014, 12:12 p.m.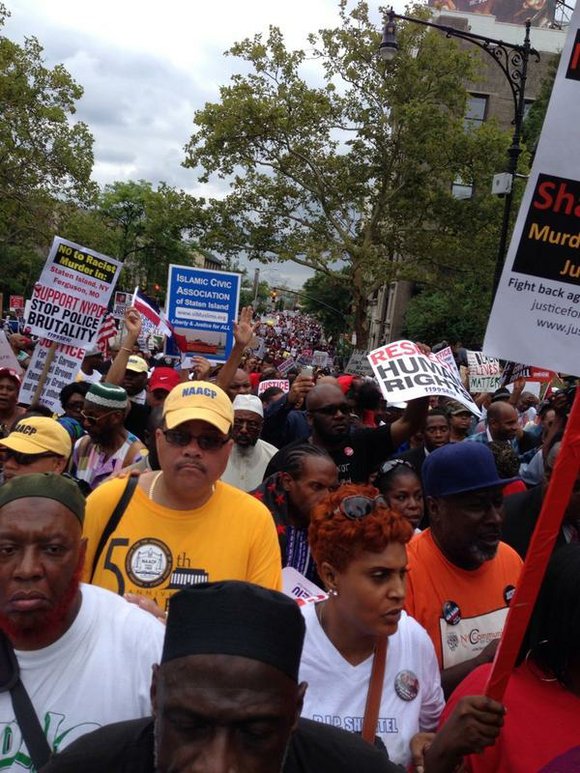 Overwhelmed is a word that was repeatedly uttered by the family members of Eric Garner during the rally on Staten Island on Saturday. "I don't know what to say," said Esaw Garner, the widow of the man thousands had marched for, chanting his name and calling for justice. "This is so overwhelming; I don't know what to say."
She didn't have to say anything, the marchers said it all. "I can't breathe!" echoed from the crowd as it marched from Mt. Sinai Christian Church to Bay Street where the rally was held.

"Hands Up," a caller screamed. "Don't shoot!" the audience answered, summoning the recent killing of Michael Brown in Ferguson, Mo.
"If we have to march from Staten Island to Ferguson for justice we will do it," one speaker told the crowd that stretched more than a quarter of a mile along the waterfront.
"I would say there are about 8,000 out here," was the estimate from one police officer.
But it wasn't about the numbers, said Rev. Al Sharpton of the National Action Network, one of the chief organizers of the march. "It's about the struggle for justice," he said. "We are not having a fit, this is a movement…and we are here marching for the family."
"This is not about black or white and we are here not against the police, but against wrong," said Kadiatou Diallo, the mother of Amadou Diallo who was killed by the police in the Bronx in 1999, all of whom were acquitted. "We want this to stop."
Gwen Carr, Garner's mother, said "He was a good son. Never talked back to me and at the moment my heart is so full…I am so overwhelmed."
Garner, who was affectionately known as the gentle giant, was killed on July 17, when an officer grabbed him from behind in a chokehold, wrestled him to the pavement, while other officers helped him press Garner's body so hard that he couldn't breathe. One of the officers, Daniel Pantaleo, who applied the illegal chokehold, was stripped of his badge and gun and assigned to desk duty.
The marchers passed the Staten Island District Attorney's office, intensifying their demands for justice and the latest news is that a grand jury is in the process of being impaneled but it may take quite a while before they've heard all the evidence.
Bishop Victor Brown of Mt. Sinai Church agreed that they were trouble makers and "we will not go away until we have a sweeping reform of the police across the nation."
Hazel Dukes of the NAACP, activist Lenora Fulani, Rep. Jose Serrano, Imam Talib Abdur-Rashid, Constance Malcolm, the mother of Ramarley Graham, former Governor David Paterson, and George Gresham of 1199SEIU were among the speakers at the peaceful rally.
"We are here by the thousands," Sharpton declared, "and we are not here to cause violence; because violence has been caused by a chokehold. We are here to help the police get rid of the bad apples so they won't affect the others."
It was a very diverse gathering with marchers from all walks of life. Among some of the elected officials and dignitaries making the long trek were Ydanis Rodriguez, Melissa Mark Viverito, Jumaane Williams, Elinor Tatum, Cornelius Ricks, Michael Gartner, Fred Monderson, Shirley Smith, Michael Mulgrew, Abdul Hafeez Muhammad, and countless others.