Michael Brown shooting: What's next?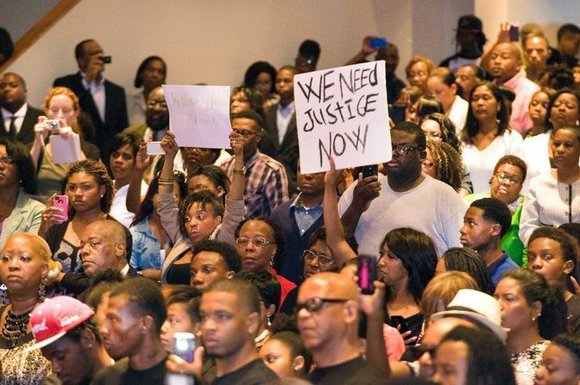 Now that Michael Brown is laid to rest, the community of Ferguson, Mo. and the nation are looking at the next steps to repair what many continue to call a failed system when it comes to policing.
A grand jury is examining evidence to determine if Officer Darren Wilson will be charged. As of Wednesday the panel reconvened and it could take until mid-October before all evidence is looked at, according to a country prosecutor.

The grand jury panel is made up of one Black man, two Black women, six white men and three white women.
An audio recording of what is believed to be shooting of Brown has also surfaced. On the recording 10 shots can be heard with a pause between two segments of the shooting. Brown was shot six times according to autopsies. The FBI is investigating the recording.
The recording was reportedly captured by man who was in his home video-chatting with a friend who had no knowledge of the shooting.
US Attorney General Eric Holder arrived to Ferguson last week and said the federal government is using its resources to look into Brown's death.
"We have brought a substantial number of people here, of agents here, who have done a great job in the canvassing that they did over the past weekend, and continue to follow leads so that we can do a thorough and a fair job of making a determination about what happened on Aug. 9," he said.
Speaking on Wednesday on the nationally syndicated radio program The Tom Joyner Morning Show, the Rev. Al Shapton said Ferguson and the nation must stay vigilant and making sure change comes in the aftermath of Brown's death.
"If we do not follow up then there is a two track train that we must ride," he said. "One: we must deal with the criminal justice system and justice for this family where they must get a fair and impartial investigation. On the other tier, how we deal with legislating and making sure permanent change is comes is how policing is done in this country."
Sharpton also pointed out about getting more Blacks involved in the political process in Ferguson as an important part of change.
On Tuesday night, citizens and local and national leaders came together for a town hall meeting at the historically Black Harris-Stowe State University in St. Louis. The meeting was hosted by Radio One stations Hot 104.1 FM and Old School 95.5 FM.
Discussions not only highlighted the unrest in Ferguson, but addressed the impeding violence, socio-economic and law enforcement issues facing African-Americans. The meeting was moderated by Shorty da Prince and Demetrius Johnson of Radio One.
Murphy Lee of the rap group the St. Lunatics, Alderman Lewis Reed, Board President of Aldermen City of St. Louis, St. Louis Police Chief Sam Dotson and attorney for the Brown family, Anthony Gray were on the panel at the meeting.