August is National Minority Donor Awareness Month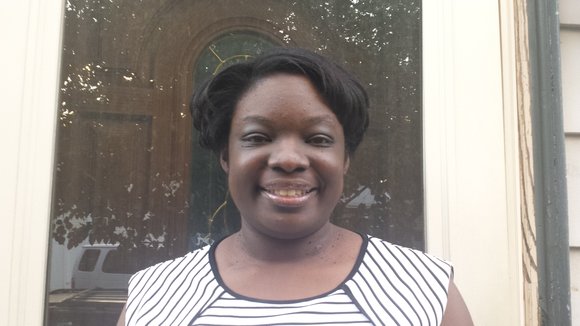 Iyabo Fadario had to put her life on hold because of a disease so rare that she is one of a very few African-Americans to have it. Even though undergoing dialysis helps keep her healthy, she is in need of a kidney transplant and was placed on the waiting list last November.
"I was diagnosed with APRT (adenine phosphoribosyltransferase) in 2013," Fadario said. "My organs weren't getting enough oxygen, and my body is not producing adenine. I've been through about 13 surgeries."
Damaso Rayes and Jimmie Briggs
AmNews contributor, Damaso Rayes recently had surgery to donate his kidney to longtime friend and co-founder of the Man Up Campaign, Jimmie Briggs.
On dialysis for more than three years, Briggs had a heart attack, resulting in kidney failure. Briggs is in need of medications to ensure that his body does not reject Rayes' donated kidney or succumb to life-threatening infections. The medications are not covered by insurance, and the hospital estimates that these uninsured medications alone will cost tens of thousands of dollars.
A GoFundMe campaign was started to raise money for Briggs. To contribute, visit http://gofundme.c...">gofundme.com/Team....
August is National Minority Donor Awareness Month, and Fadario is one of 10,000 New Yorkers waiting for a life-saving organ transplant. New York ranks 49th out of the 50 states in percentage of registered organ donors, with only 22 percent of the adult population registered to be donors, compared with 45 percent nationwide.
African-Americans have the second lowest organ donation consent rate (52 percent) among race/ethnic groups in the state. Approximately 3,600 African-Americans are on the organ donor waiting list in New York. Coupled with the many health problems that disproportionately plague the Black community, access to organ donation is essential.
While awareness is raised year-round about the importance of becoming an organ donor, advocates say designating a month targeting communities of color about becoming donors is needed. Reasons why organ donation is so low range from religious beliefs to distrust of the medical community.
Organ donor advocate Donna Banks lost her husband while he was waiting for a heart transplant. The father of two sons died at age 44. Banks served on the boards of the United Network for Organ Sharing and Donate Life America. As soon as her husband was placed on the registry, she began giving talks around the nation to encourage people to make an informed decision about donation.
"One donor can save up to eight lives, and if you count eyes and tissue, you can save up to 50 lives," she said. "It's a second chance at life, and it's a win-win for the donor and the person receiving the organ."
Approximately 90 percent of people become organ donors when they receive or renew their driver's license or state ID. However, the time period of the renewal cycle is eight years in New York compared with shorter times in other states. This lengthy renewal cycle leads to people being asked less frequently if they want to be organ donors.
James Pardes, vice president of marketing and communication for the New York Organ Donor Network, said there are other ways people can become organ donors besides at the DMV. The network has all sorts of outreach programs and ways to get the message out about becoming an organ donor online.