The best of Santa Barbara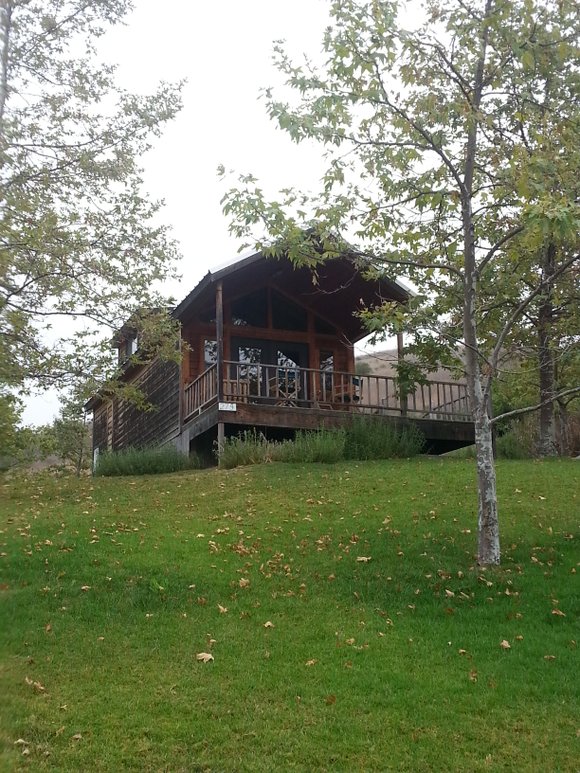 With all there is to see and do in Santa Barbara, as we learned in the first two parts of this feature series, you definitely need some downtime to relax and rejuvenate.
Accommodation options in and around town are plentiful, from your customary chains such as Holiday Inn, Embassy Suites, Comfort Inn and Suites, Doubletree, Best Western and the like, to upscale hotels and resorts, including the Bucara Resort & Spa, the Hotel Milo Santa Barbara and San Ysidro Ranch, to quaint inns such as the Spanish Garden Inn, Inn by the Harbor, the Simpson House Inn and the West Beach Inn.
But because we had rented a Jucy (http://amsterdamnews.com/news/2014/jul/17/taking-jucy-road-trip) for our 10-day road trip up the coast, this allowed us to travel and stay a little bit "off the grid."
RECONNECTING WITH THE GREAT OUTDOORS
It has been a few years since I have had an opportunity to go camping, so I was very excited about embarking upon a two-night stay at Ocean Mesa at El Capitan, located just 20 minutes north of Santa Barbara. When we made our reservation, we knew we'd be the little guy among the larger "siblings," such as towable RVs, 21- to 40-foot motorhomes and the top-of-the-line Class A motorhomes ranging from 22- to 45-feet with expandable sides and just about every amenity you could think of that you would have in a traditional home.
Yet the description of the place is what fit the bill: "Ocean Mesa is surrounded by Los Padres National Forest above the magnificent Pacific Ocean … explore our 15 miles of hiking trails, enjoy a music-filled Saturday evening under the stars … or just relax and take in the magnificent ocean views of the Gaviota Coast." I was already hooked!
Upon our arrival, we found a very beautiful and clean campground backing up to the picturesque mountains, just a stone's throw from some of the most beautiful unspoiled stretches of the California coast. Each campsite encompassed a very spacious, elongated, concrete pad for your vehicle, a tree-carved picnic table for eight, a gravel and asphalt area, fire ring with grill and the appropriate hookups for your particular recreational vehicle needs. They also have 20 tent camping sites. And unlike what you'll find at many campgrounds, most were separated by 6-foot high rows of verdant bushes as a privacy buffer.
In addition to a little convenience store within the check-in office, campers here also have access to the adjacent Canyon Market & Cafe, located just a short five-minute walk down the Bill Wallace Trail, which meanders through a verdant avocado tree grove.
The market is a charming country store featuring a delicious, organic menu of gourmet breakfast, lunch and dinner items, a large selection of local area wines, specialty items and the customary convenience store sundries.
The ambience here is captivating, highlighted by wooden bridges, a creek, handcrafted artwork pieces, a camp ring and stage (for groups) and a little gift shop selling body products, jewelry and the like. Other campground amenities include a modern and spacious bathhouse and comfort stations, a large heated pool and Jacuzzi, 15 miles of hiking trails, entertainment activities and laundry facilities. It is also wired for Internet and TV, though the best part is an inviting ambiance in which to enjoy the great outdoors and meet other people—families with children, couples, retirees and those who live on the road full-time—from across the country.
My boyfriend, who has camped all over the United States, remarked, "I've been in a lot of campgrounds in my 50 years, and this is by far one of the nicest."
But what really sets the property part is the adjacent El Capitan Canyon.
ALFRESCO DELIGHTS
Family owned since 1975 and originally opened as a traditional campground, El Capitan Canyon was transformed in 2002 into an upscale, all-season comfort camping destination with a contemporary rustic ambiance. It was one of the first places to be deemed "luxury camping," and today it fits into what is more commonly referred to as "glamping" (glamorous camping) for those who don't want to forgo some of the comforts of home. And while many of these places are only sort of getting away from it all, El Capitan Canyon takes escaping to whole new level.
Accommodation options here include 12-by-14-foot Canvas Safari Tents built on raised wooden decks with screened windows and doors with zip‐down flaps, queen‐size or two double beds, electric lamps, heaters, bed linens, towels and bathroom facilities with showers located nearby.
The Adventure Yurts are 20-foot diameter, circular canvas structures with a queen and twin-size bed with an additional twin trundle bed, refrigerator, ceiling fan and skylight, also with facilities nearby. The Cedar Cabins feature spacious decks, bedrooms and lofts, a living room, full bathrooms, kitchenettes with kitchen table and chairs, many with fireplaces and/or soaking tubs, and linens, duvets, towels, picnic tables, grills and fire pits.
Considering the accommodation amenities provided, each option is very affordable.
If you really want to glam it up, opt for the Safari Cabin Suite. Set on a hillside offering expansive ocean and mountain vistas on all sides, this place is the bomb and El Capitan Canyon's most private accommodation. Think "Architectural Digest" but with a woodsy-feel in this spectacular two‐bedroom retreat featuring a designer kitchen, living room with fireplace, a master bedroom with fireplace, bathroom and to die for outdoor shower, second bedroom and bathroom, and wraparound deck with barbecue grill, outdoor dining area, lounge chairs and fire pit. You will have to fork out quite a bit for this amazing indulgence ($695 to $795 per night), but for some, it will be well worth it!
MORE THAN JUST CREATURE COMFORTS
What really makes a stay here so appealing is the au natural accouterment: 350 acres of rolling hills and creek canyons set against the 3,500 acres of pristine nature preserve of the surrounding forest, groves of soaring California oak and sycamore trees, very few permanent structures, horseback riding facilities, free bicycle use and the abundance of wildlife all around.
Most impressive is their focus on green practices with several vegetation, habitat, timber salvage and recycling, renewable energy, water and other conservation programs, a solar pool heating system, car-free zones to encourage wildlife and pedestrian safety and reduce noise and air pollution, complimentary electric shuttle service to the further away campsites and a completely smoke‐free environment.
El Capitan Canyon is popular with families, couples and for groups for weddings, retreats and corporate events that take place in several large group facilities and outdoor areas throughout the year.
It is apparent from the moment you step on the grounds that their staff of 125, primarily long-term employees take great care and love what they're doing. It's palpable and comforting to be able to move about and allow your children to roam freely without worry.
While you're out here walking, hiking and biking, you can rest your tired bones at their private Creekside Canyon Spa set amid gardens planted with herbs and native flowering shrubs with a spa cabin, spa tents, outdoor treatment areas and an inviting outdoor enclosed wood shower. (You can also arrange for treatments inside your accommodation.) Activities including yoga, storytelling, botanical hikes, a ropes course, outdoor music series, barbecue buffet dinners and more are offered, depending on the time of year.
El Capitan Canyon is incredible and a must stay when traveling along the California Coast.