Michael Brown and Eric Garner: What's Next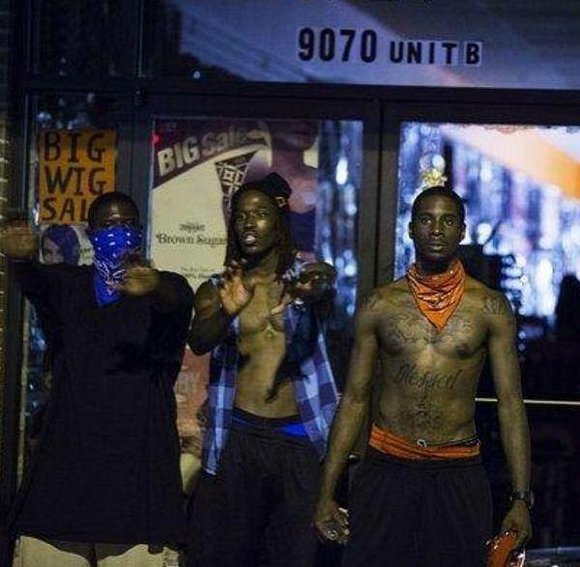 To indict, or not to indict? That is the question weighing heavily on at least two high-profile grand juries.
A touchstone for racial tension is Ferguson, Mo., in the wake of police officer Darren Wilson's shooting of Michael Brown. On Staten Island, N. Y., the Rev. Al Sharpton's walk to the site of the chokehold killing of Eric Garner by NYPD officer Daniel Pantaleo is done. Now, all eyes are on the aftermath.
"We are waiting for justice," said Charles Barron, former City Council member and current state Assembly candidate. "We don't trust the process Ferguson is pursuing. What the prosecutor should have called for is a criminal complaint versus a grand jury. The grand jury is secret, and we don't know what is going on and who is involved. There is no transparency. They can't expect the community in Ferguson and beyond to accept that. And beyond any indictment,―should it even come,―the people want a conviction of Officer Darren Wilson for the shooting of our unarmed brother, Michael Brown."
The people's two-week long protest in Ferguson saw heavily armed police firing tear gas canisters and rubber bullets at the shouting masses. The world watched in awe as military-style armored vehicles rumbled down the suburban streets after the Aug. 9 shooting of Brown, 18.
Dozens of Black organizations, including the Nation of Islam and the New Black Panther Party, hit the streets to speak and walk with the outraged community. As the tear gas clears and the dust settles somewhat, everyone is waiting with bated breath to see what will happen next.
Much is planned, apparently: boycotts, walkouts, vociferous rallies, social media campaigns, street-corner politicking, grassroots motivating, faith-based organizing, mainstream-media-sensationalizing and community-based press.
In the heat of the street conflict between police and community in the days after Brown's death, as did United Nations Secretary-General Ban Ki-moon, Egypt's Ministry of Foreign Affairs advised the United States to exercise "restraint and respect for the right of assembly and peaceful expression of opinion."
Promises that "This ends today!" and declarations of "No justice, no peace!" reverberate as communities worldwide absorb the images, the facts and the history of the unresolved police-killings of Black youth. There was a sober scene over the weekend and Monday, when mothers of shooting victims came together to console Leslie McSpadden, mother of Brown. In a touching moment, three mothers comforted one, sadly initiating her into a club no one wants to be in. Forming the trio were Valerie Bell, mother of Sean; Sybrina Fulton, mother of Trayvon Martin; and Constance Malcolm, mother of Ramarley Graham.
Meanwhile, a grand jury is examining evidence to determine if Wilson will be charged. As of Wednesday, the grand jury had reconvened, and it could take until mid-October before all evidence is looked at, according to a county prosecutor.
The grand jury is made up of one Black man, two Black women, six white men and three white women.
An audio recording of what is believed to be the shooting of Brown has surfaced. On the recording, 10 shots can be heard, with a pause between two segments of the shooting. Brown was shot six times, according to autopsies. The FBI is investigating the recording. The sounds of gunshots were reportedly captured by a man who was in his home video-chatting with a friend and who had no knowledge of the shooting.
U.S. Attorney General Eric Holder arrived in Ferguson last week and said the federal government is using its resources to look into Brown's death.
"We have brought a substantial number of people here, of agents here, who have done a great job in the canvassing that they did over the past weekend, and continue to follow leads so that we can do a thorough and a fair job of making a determination about what happened on August 9," he said. "And I'm confident that through the ability of these people, we will be able to make a determination about whether or not any federal statutes have, in fact, been violated."
As he organized marches and town hall meetings around police brutality, National Black United Front Chairman Salim Adofo exclaimed, "No justice, no economic peace!"
There is a national day of withholding the "Black dollar" planned for Monday, Sept 8. Big chain stores are being targeted in particular. Tuesday, the National Black United Front hosted the event 100 Black Men Against Police Brutality "Time for the Black Man to Stand Up."
Wednesday at Busboys and Poets in Washington, D.C., Danny Glover, via Skype, joined such folks as Jasiri X and Dr. Ron Daniels (Institute of the Black World) for the town hall meeting entitled "Ferguson and Beyond―Police Killings of Black Men."
Facebook is still bristling with comments and suggestions, of course. Justice for Mike Brown posted a photo of young men standing outside a Ferguson store discouraging anyone trying to rob it. Next to the photo was the statement "WHAT THE NEWS WONT SHOW: Two CRIPS and a BLOOD gang member, together preventing people LOOTING this shop ... #Ferguson."

Some of the responses: 

Claressa Muhammad: "It all begins with a thought … the intent is good regardless. Our 'unity' is what will get us through this!"
Elysha Terry: "They coming together like they are supposed to!
"
Cornell Beatrice Hill: "This is what 2pac was trying to do, bring all gang members together in what would have been a beautiful thing."
"Kyauta Pengel: "If all the gangs in the world unified, we'd stand a chance against the military tonight."
Chairman of the Uhuru Movement Yeshitela Omali visited Ferguson and announced a "National March on Ferguson," for Saturday, Aug. 30, and stated, "What distinguishes Ferguson is not the police murder of Michael Brown. That happens to African people almost every day. What distinguishes Ferguson is the courageous resistance of the people that has brought the eyes of the world to the conditions of African people in this country. This Saturday, the resistance continues."
Additional reporting by Cyril Josh Baker