Parents of Ramarley Graham demand Dept. of Justice launch federal probe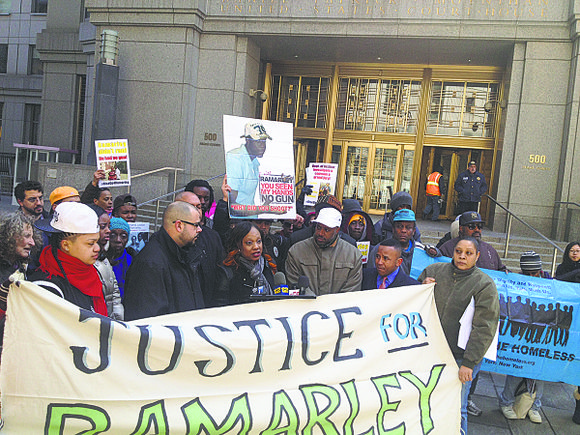 It has been exactly one year since the U.S. Department of Justice promised to launch an investigation into the death of Ramarley Graham, an unarmed Bronx teen who was gunned down in his grandmother's bathroom in February 2012 by NYPD Officer Richard Haste. But family attorney Royce Russell said he's gotten "no word" from the DOJ since then.
The year-long wait prompted Graham's parents, Constance Malcolm and Franclot Graham, to deliver 33,000 signatures to the Manhattan office of U.S. Federal Judge Preet Bharara of the Southern District of New York, last week Wednesday, to demand a federal civil rights investigation.
"My son has been dead almost two and a half years, and I'm still waiting for our day in court," said the emotional father at a rally at Foley Square in lower Manhattan, before the petitions were delivered. "We haven't had a meeting. We haven't had a face-to-face with anyone. We feel as if we don't even count, like we don't even exist. My son counts. I will not stop fighting."
Graham said that after his son's death, "his body was hidden for four days," before the family could view it.
According to Haste, the younger Graham was "acting suspicious" when the encounter occurred. When chased into the bathroom, police reported that he tried to flush a small bag of marijuana down the toilet. They also claimed that he had a gun, but none was found at the scene. His grandmother and 7-year-old brother were both said to be at home when he was shot. He died at a Bronx hospital.
The Bronx district attorney's office first indicted Haste on manslaughter charges in the summer of 2012. However, a judge dismissed the charges because of "misinformation" given to the jurors and a technicality. A second grand jury last summer decided not to re-indict the officer, which prompted the family to seek federal intervention.
"This family demands accountability and response, and thus far we've got neither one," said Brooklyn Assemblyman Karim Camara, chair of the New York State Black, Puerto Rican, Hispanic and Asian Legislative Caucus.
"This shows us that the NYPD needs a reform and an overhaul," Camara said. "This man was stopped because he was perceived to be a criminal, because of the color of his skin. This was 'broken windows,' this was 'stop and frisk.' He wasn't doing anything wrong. He was killed, for what? We need answers."
The parents' petition to the DOJ comes on the heels of heated racial tensions and the call for a federal probe into the July 17 death of a Staten Island man, Eric Garner, who was placed in an apparent and prohibited chokehold by an NYPD officer, and as U.S. Attorney General Eric Holder convenes an investigation into killing of unarmed Black teen Michael Brown in Ferguson, Mo.
Graham's mother said, "We're going to give them [the DOJ] 30 days. Just 30 days!" to respond to the petitions' request. "Not a day after that, because we want an answer," she added. "We can't have no more Ramarleys. We can't have no more Michael Browns and Eric Garners. It stops here!"
Last Friday, Bharara's office released a statement saying that they have received the petitions and that the "office has been conducting its own independent investigation of this tragic incident. There are many reasons that a federal civil rights investigation should be conducted confidentially, including grand jury secrecy rules, as well as prudential and other reasons, including fairness to all the parties involved. Above all, a proper investigation must be thorough, fair and independent so that in the end, justice is done, and we are absolutely committed to that."