Talking SCHOP! A year at Betony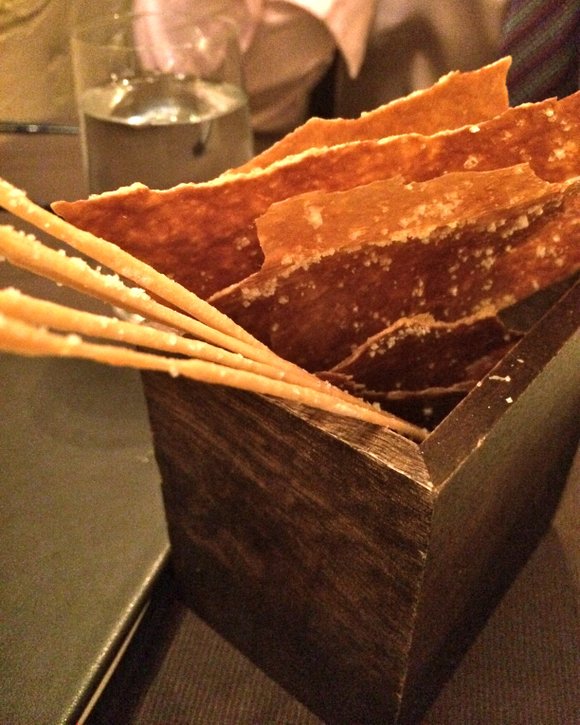 There are wonderful milestones in our lives that are cause for celebration. Exactly how that celebration goes down is up to those involved. It can be loud and celebratory or intimate and close. No matter the marker, don't let those unique times pass.
This month I celebrated a milestone—my first anniversary with someone special in my life. He is special for so many reasons. He knows how to make me smile, he hears me and encourages the foodie in me to soar. And soar we did, together at Betony (@BetonyNYC, 41 W. 57th St., 212-465-2400, www.betony-nyc.com).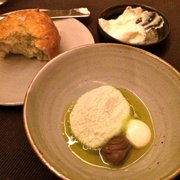 Earlier this year, I fell in love with Betony at first drink and bite while attending the Taste of the Nation (@TOTN_NYC). They were sampling a gin cocktail with milk, rhubarb and celery they call "milk punch," though it was clear as day. How they do that is why I put the restaurant on my M.E.A.T. (Must Eat At Tomorrow) list immediately.
We tried to dine at Betony for my birthday, but there was not a reservation to be had. This time, my boo booked a month in advance. He wasn't playing! He would only tell me the date and time with a hint to wear a specific dress he likes on me. I was giddy.
After taking the A train to Columbus Circle and a brief walk, we were walking into what I knew would be a transformative meal. I was taken by the design of the vertical space, hard meeting soft, strong meeting fragile. Brick walls and scuplted limestone wall panels and what looked like a carved stone ceiling were lightened with glass balusters and tufted banquettes.
We were quickly whisked to our private table for two in the back. The attentive and knowledgeable staff wasted no time, making us feel welcomed and excited for the experience. We started with cocktails. No milk punch for me this time, as this seasonal drink didn't have the May rhubarb I love. Instead, I opted for the Betony G&T with juniper, and he had the Loneliest Monk, a bourbon cocktail. We toasted and sipped while munching on the bread course of warm dill sourdough, pretzel wafers and cheese sticks with yogurt butter.
There are three sections of the dinner menu from which to choose: hors d'oeuvres, appetizers and entrees. We had to have at least one from each. It was not an easy choice, but ultimately we did good!
It started with foie gras bonbons coated in toasted cashews served simply with crushed black pepper and salt. Wow! It was an explosion of unctuous decadence in my mouth. I could definitely put my feet up and pop those while I watch "Top Chef" reruns.
Next up was Betony's amuse bouche of tomato gatzpacho with yogurt and pumpernickel paste. I took the server's word for what it was until I tasted the soup in the form of snow. It's the kind of stuff that makes you smile with glee.
While that appetizer section had myriad items to try, there was only one dish that said "anniversary," "special occasion" and "eat me now!" That was the sweet corn angnolotti with pickled baby corn, cotija cheese and, the best part, Australian black truffle presented and shaved table side by the chef de cuisine. I was told I was moaning with pleasure. Without shame, I sopped up every drop with the dill sourdough.