Nas play brings sold-out audience to the Schomburg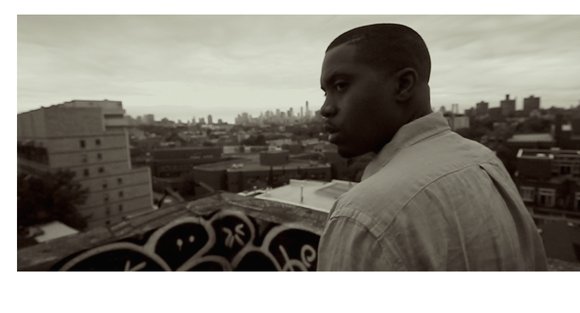 Nas is having a big year in media, and he got even more shine this past November with a play inspired by his classic debut album, "Illmatic." The work, "Homage 3: Illmatic," was created by playwright Shaun Neblett and was presented at Harlem's Schomburg Center for Research in Black Culture.
In addition to the play, a documentary titled, "Time Is Illmatic," marking the 20th anniversary of Nas' debut album, has been receiving critical acclaim, his high-energy tour has sold out numerous venues and he made a memorable appearance on PBS's genealogy-focused show, "Finding Your Roots."
"Homage 3: Illmatic" is not a play about Nas' life, but a play about the artist in all of us and how in different ways, we seek to express that inner creativity. Neblett skillfully weaves lyrics and themes from Nas' "Illmatic" into the dialogue and story to illustrate that point.
"The story is from the spirit, times and lyrics of 'Illmatic' the album, but it is mostly about the perseverance of the every man (woman) in us," said Neblett of his work. "What will it take for us to live fearlessly and to be who we are destined to be?"

The "everyman" in this play is represented by Ron (Chinaza Uche), a gym teacher who is passionate about photography. Circumstances force Ron's hand and he has to choose between his stable but not quite fulfilling life or making the leap into the less-secure life of an artist.
"Homage 3: Illmatic" originally debuted off Broadway in 2011, and it was met with adulation. Educator and author Michael Eric Dyson called it "a great play that evokes a sense of history and a sense of intimacy with people who nurture you, surround you and are a mystery to you."
Neblett is offering an original creative production that has accessible, universal themes and highlights the skill and timelessness of one of hip-hop's most highly regarded works of art.
The one-time-only showing at the Schomburg (a producer of the play, along with the Creative Collective and Changing Perspectives Theater) was a major success. Not one seat was available by curtain call.
Although the main character was Ron, the real star of the show was the best friend, Will, played by Harvey Gardner Moore. He gave a nuanced, realistic performance that garnered many laughs and presented a number of stand-out moments. He made Will a real person.
The other actors in the play also held their own. Toccara Cash (Ron's girlfriend), Shawn Randall, Joel Rogers and Stephen Hill were all capable and confident and turned in applause-worthy performances.
Neblett spoke at the end of the sold-out show and noted that this play is just one of a seven-part series. Next up is "Slick Rick." Be on the lookout for that play. If "Homage 3: Illmatic" is any indication, it will be a treat.
Demetria Irwin is a New York-based freelance writer and editor. Follow her on Twitter at @Love_Is_Dope.