Harlem Protestors Speak Out!
Dominique Dajer & Jalesa Tucker | 12/8/2014, 4:47 p.m.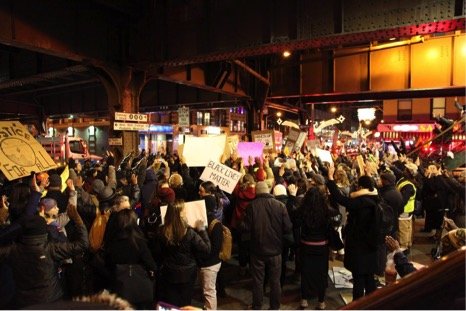 Over a thousand protestors gathered on 125th Street and Park Avenue on Thursday evening to demonstrate against police brutality. A day after a grand jury decided not to indict the white police officer who used a chokehold to kill Eric Garner on Staten Island, New Yorkers expressed outrage all over the city.
In East Harlem, the generally peaceful crowd of people of all ages, but mainly young, chanted, "Hands up, I can't breathe," and "We can't take it no more, we're fighters." Signs offered messages, like "BLACK LIVES MATTER," and "Who will protect the people when the police break the law?"
Maylah Kissinger, a student at Hostos Community College, took note of the echoes of the Civil Rights Movement at this gathering. "My parents always spoke about growing up in the 60s, but I never knew I'd experience it for myself," she said.
Salvatore Lamboy Jr, another demonstrator, said he hopes for "justice for the people," but believes racism will never end. "Cops take an oath to serve and protect, but I don't feel safe, when they're around," Lamboy said. "They're just a gang with a badge who look at skin color."
Swarmed by the NYPD, participants continued to walk down 125th Street, kneeling at stoplights and chanting, "Don't shoot! Fight back!" with their hands above their heads.
Valencia, a Harlem resident of 25 years, would like to see a different outcome. "I hope all people see that a black man, and a black boy's life are valuable," said Valencia, referencing, Garner, Mike Brown and Trayvon Martin, unarmed black men who were murdered around the country.
Added Valencia, who preferred not to give her last name: "[When] we come together, we make it a problem for them [police]."