Our Point of View, Sanabria in Bronx, Apollo Xmas, Sweet Lou
Ron Scott | 12/11/2014, 2:56 p.m.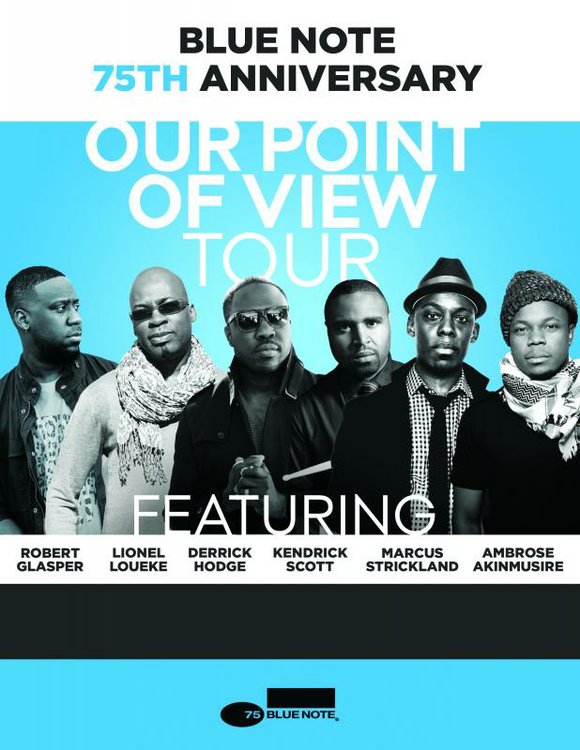 Some of the most influential jazz musicians to ever play an instrument recorded on Blue Note Records, founded in 1939 by Alfred Lion and Max Margulis, with Francis Wolff joining with them shortly afterwards.
The record label, with its roster of legends, has been celebrating its anniversary since the beginning of the year. The concept of signing innovative young guns remains the same as it did when Bud Powell, Thelonious Monk and Fats Navarro came aboard, followed by the younger generation of Horace Silver, Lee Morgan, Hank Mobley, Joe Henderson, Herbie Hancock and Jackie McLean.
To commemorate its 75th anniversary, the label brought together some of its musicians under the direction of pianist Robert Glasper, who put together the group Our Point of View, featuring trumpeter Ambrose Akinmusire, guitarist Lionel Loueke, saxophonist Marcus Strickland and bassist Derrick Hodge, with drummer Kendrick Scott.
Our Point of View celebrates the vitality of the label by looking ahead and bringing together the leading young artists on the roster who consistently move jazz forward. As part of the celebration, the group has performed in Paris and London, with limited engagements in Monterey, Calif. Dec. 12, the group plays its only New York appearance, at Le Poisson Rouge (158 Bleecker St.) in Greenwich Village at 7:30 p.m. To commemorate WBGO's 35th anniversary, they have teamed up with Blue Note Records at the close of their 75th anniversary to present this performance.
"Blue Note had an incredible roster and incredible music. Everybody played for that label," said saxophonist Strickland. "It's an honor to be a part of this band." When asked about the group's repertoire for the evening, Strickland noted they will perform a Blue Note selection, possibly Wayne Shorter's "Witch Hunt" and their original music.
"Blue Note trusted artists to do their thing," said Strickland. "The best way for us to pay homage is to do our music."
For more information, call 212-505-FISH or email info@lprnyc.com. This is a general admission standing event, and tickets are $40 and $75 for VIP opera box seating, with a two-item food/or drink minimum per person.
The Bronx was known for its hot music, from jazz to salsa, where folks throughout New York City flocked to clubs such as the Bronxwood Inn, Concourse Plaza and the Savoy Ballroom to hear anyone from Tito Puente to Joe Cuba, Eddie Palmieri, Roy Campbell Jr. and Lee Morgan.
Unfortunately, those days are gone, but the Bronx is gradually coming back, with consistent happenings at the Bronx Heritage Center. Dec. 11, the Center, along with P.S. 55 (450 St. Paul's Place) will present the quirky ensemble Canadian Brass, Grammy-nominated composer, arranger and percussionist Bobby Sanabria and Quarteto Ache and Circa95 at 6 p.m.
Canadian Brass has recorded more than 130 albums and top 25 Billboard hits. They are known for their energy, showmanship and skill—ready to tackle anything from baroque to jazz, pop and holiday classics.
Sanabria is a native of the Bronx, as well as an active member and advisor at the Bronx Heritage Center. The activist and educator often performs in New York public schools and is currently teaching an Afro-Cuban big band ensemble at the Manhattan School of Music and the New School for Jazz and Contemporary Music. He has performed with Mario Bauza, Dizzy Gillespie, Tito Puente, Mongo Santamaria, Chico Freeman, Paquito D'Rivera, Candido, Ray Barretto, Henry Threadgill and Charles McPherson.