Eric Garner's father pleads for peace after cops' clearance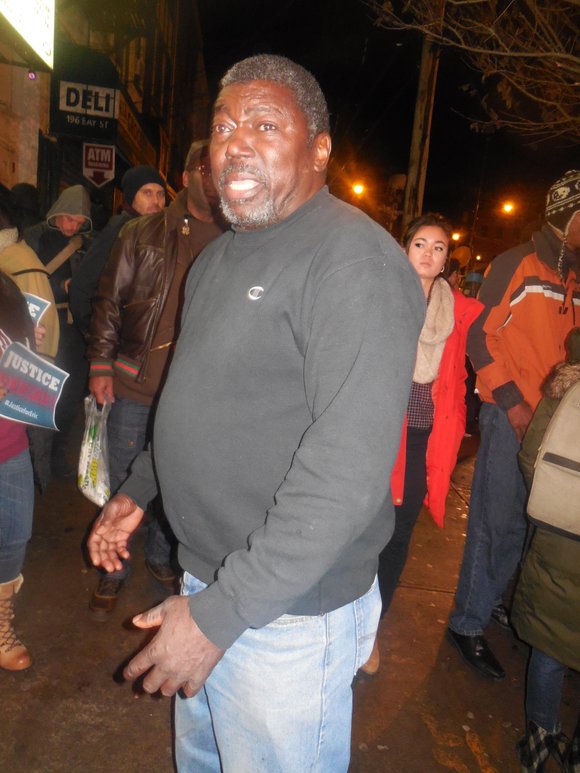 A slight tension was in the air at several key Staten Island locations early Dec. 3, as dozens of demonstrators withstood the chilly drizzle and staunch police presence in anticipation of a local Richmond County grand jury's ruling on whether the NYPD's Daniel Pantaleo would formerly face charges for choking the life out of 43-year-old Eric Garner July 17.
Upon the non-indictment announcement shortly after noon, police reinforcements complete with barricades had already mobilized along the block where the courthouse is located at 126 Stuyvesant Place. They also set up on nearby Bay Street at the very same spot in Staten Island's Tompkinsville section where Garner gasped, "I can't breathe!" 11 times under the deadly clutches of the Caucasian killer cop as they both fell to the concrete sidewalk while more policemen piled on top of Garner, the 6-foot-4, 350-pounder lapsing into eternal unconsciousness.
"No indictment … what did you expect? It's the same scenario as [Amadou] Diallo and [Sean] Bell. Nobody thought it was going to be any different. It's gonna take some B.L.A. action for us to get justice!" exhorted a late-30ish Black man rocking a gray hoodie in front of the courthouse.
The decision not to indict, despite two videos capturing the confrontation and aftermath with the cops, along with the medical examiner's office ruling Garner's death a homicide in August, determining it was caused by "compression of his neck (chokehold), compression of his chest and prone positioning during physical restraint by police," has infuriated many.
"What's a Black man's life worth?" asked native Staten Islander Brother Kason, 33. "They're sending out a message that no matter what the circumstances are, as long as you're wearing a uniform, you can kill a Black man with impunity, and they [cops] know that."
A few hours after the not-so-unexpected news broke, a group of about 25 to 30 disenchanted demonstrators departed from the vigil at 202 Bay St., clogging traffic while chanting, "Justice for Eric Garner!" "No justice, no peace!" "I can't breathe!" and "This stops today!" The latter being a reference to Garner signifying the constant harassment he had been enduring by New York's finest before being tackled.
The crowd had doubled in size and was accompanied by patrol cars with flashing lights by the time it reached the 120th Precinct at 78 Richmond Terrace several blocks away. Once there, they demanded that a civil rights violations inquiry be pursued.
"Since we're not receiving justice locally, it's time to take it to the federal courts, and after that, to the international court … until we are recognized as human beings!" said a man from the precinct's steps.
Once they returned to the Bay Street vigil a little after 7 p.m., Garner's disheartened stepfather, Benjamin Carr, implored the couple hundred protestors to maintain their discipline.
"There is no justice system. Whites can kill Blacks, but not the other way around," the anguished father expressed to the crowd, many of whom embraced him. "Let one of these guys out here kill a white kid … they can't wait before they lock him up. Who can control the Police Department? We had a damn videotape, right here, they got it on camera. I can only do but so much, I can't make anybody do nothing, I can't control what anyone does, but I want peaceful protests."
Later that night, U.S. Attorney General Eric Holder declared in a statement, "Now that the local investigation has concluded, I am here to announce that the Justice Department will proceed with a federal civil rights investigation into Mr. Garner's death." He promised "an independent, thorough, fair and expeditious investigation."
President Barack Obama added, "We are not going to let up until we see a strengthening of the trust and a strengthening of the accountability that exists between our communities and our law enforcement. When anybody in America is not being treated equally under the law, that's a problem, and it's my job to solve it."