'Holiday Hair Affair' at Carol's Daughter on West 125th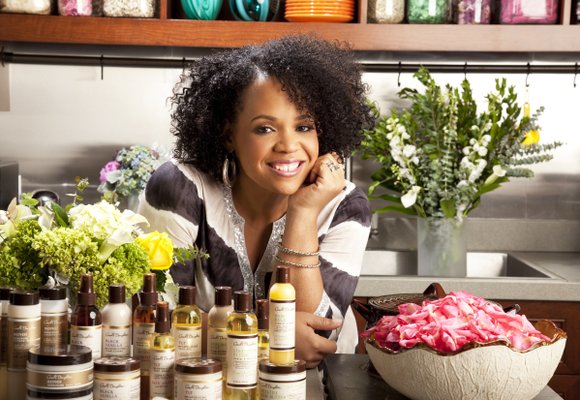 On a cold Friday night last week, it was wonderful to stop in at Carol's Daughter on West 125th Street and enjoy the warmth of their bright atmosphere and delicious delicacies while learning tips from the Carol's Daughter styling team at the shop's hair salon Mirror. More than 75 guests experienced a close-up view of the stylists, who were using Monoi and Marula products. Attendees were privy to the best conditioners for hair textures, setting and curling techniques, product samples and more. The evening also included music by DJ Leon.
L'Oreal USA announced last month that they signed an agreement to acquire Carol's Daughter. Headquartered in New York City, Carol's Daughter is a premier American multicultural beauty brand with a pioneering heritage in the natural beauty movement. Created by Lisa Price in 1993 in a rapidly growing market, this brand caters to a diverse community. Following a multi-channel distribution model, Carol's Daughter offers a wide range of beauty products that are available at specialty beauty stores, mass retailers, on HSN, through e-commerce and at Carol's Daughter branded stores.
Price's story is really a rags to riches tale. She started her business from humble beginnings in her kitchen in her Brooklyn apartment. As a hobby, Price mixed up fragrances and creams at home and created a multimillion-dollar beauty empire. In the early 1990s, she used to experiment with making her own fragrances and perfume sprays, even though she was busy working on the sitcom "The Cosby Show."
She practiced her mixing theories by adding oils to unscented lotions and began learning about the aroma-therapeutic and healing properties of the oils. After the show completed its run in 1992, Price used the end of one chapter in her life to embark on another. Imagine, with $100 in cash, her own kitchen and the simple notion that people should follow their hearts, this talented, hard-working lady built a collection that became a revolution.
Her first sales were homespun beauty products that were sold at flea markets. She also set up shop in her living room as demand for her products increased. With word of mouth, the news of her products spread like wildfire. Her customers enjoyed such unique products as Love Butter, Hair Milk, Black Vanilla Hair Smoothie and Lemon Mint Manicure. Her business continued to grow, and friends and family members encouraged Price to keep on moving forward.
In 1994, Price officially established Carol's Daughter, naming the company after her mother. Almost overnight, the brand attracted celebrities such as Jada Pinkett Smith, Erykah Badu, Rosie Perez and Halle Berry. Today, Carol's Daughter sells millions of dollars worth of products, and most recently, they launched an exclusive collection at Target stores nationwide.
Finding Mirror, located in the back of Carol's Daughter's shop on West 125th Street, was a joyful surprise! The shop focuses on the health of your hair. To reach your hair's full potential, they consult with you to understand your hair from inside out. Through a "True Reflection" consultation, they will create a customized therapy plan that works best for your everyday lifestyle.
Mirror offers a four-step plan.
Cleanse your hair with a thorough, clarifying cleansing treatment that leaves your hair and scalp free of buildup.

Massage your scalp to increase cellular turnover for a healthier growing environment.

Condition your hair with a deep conditioning treatment so that your hair is shiny, soft and easy to manage.

Steam therapy is an ingredient-infusing steam treatment that nourishes your hair's deepest layer.
Enjoy a wonderful shopping experience in Harlem and have a happy holiday!
Carol's Daughter is available at Target. Visit www.carolsdaughter.com for more information. Follow Carol's Daughter on Twitter at @CarolsDaughter.