Weekend marches in DC and New York make mark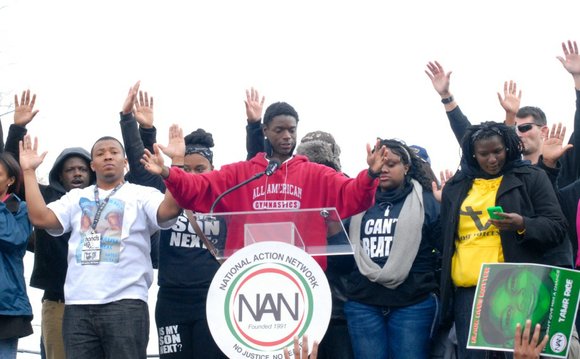 As the whole world looks on, with solidarity marches from Africa to Europe and India, the nation continues to voice its outrage over the police brutality cases that have taken place throughout the U.S.
The Rev. Al Sharpton, along with the families of unarmed Black men killed by police, led a march and rally in Washington, D.C., last weekend to give more national attention to the issue. A march and rally was also held in New York City, bringing out thousands for the "National Day of Resistance."
In Washington, D.C., Sharpton led the "Justice for All" march and was joined by Eric Garner's widow, Esaw Garner, and mother, Gwen Carr; Michael Brown's father, Michael Brown Sr., and mother, Lesley McSpadden; Tamir Rice's mother, Samaria Rice; Trayvon Martin's mother, Sybrina Fulton, and father, Tracy Martin.
The parents of John Crawford, the domestic partner of Akai Gurley, the mother of Amadou Diallo and LeVar Jones, the unarmed man shot by a South Carolina state trooper, also joined the march.
Sharpton announced plans for the march shortly after a grand jury in Staten Island decided not to indict police officer Daniel Panteleo in the videotaped chokehold killing of Garner.
Starting at 10:30 a.m., thousands of people came from across the country. In the city, several busses from local churches left early in the morning to attend the rally.
"You thought you'd sweep it under the rug. You thought there'd be no limelight," Sharpton said. "We are going to keep the light on Michael Brown, on Eric Garner, on Tamir Rice, on all of these victims, because the only way—I'm sorry, I come out of the hood—the only way you make roaches run, you got to cut the light on."
Demonstrators gathered at Freedom Plaza in Washington, D.C., and marched to the United States Capitol. At the conclusion of the march, leaders and families outlined a legislative agenda for Congress.
Dozens of groups also joined the event, including 1199SEIU, the American Civil Liberties Union, the National Urban League, the NAACP and the United Federation of Teachers.
"What a sea of people," McSpadden said. "If they don't see this and make a change, then I don't know what we got to do. Thank you for having my back."
Garner's mother said that she was overwhelmed and pleased to see so many people come out for her son and to make change.
"Look at the masses: Black, white, all races, all religions. This is just a great moment. This is a history-making moment," she said.
Meanwhile, in New York City, tens of thousands of people participated in the Million March NYC protest in outrage over the grand jury decision of Brown and Garner. The march was mostly peaceful. Marchers gathered at Washington Square Park before marching to One Police Plaza. A reported 50,000 massed to protest throughout the city. Demonstrators marched across the Brooklyn Bridge with "Black Lives Matter" signs and chanted, "No justice, no peace," and "Hands up, don't shoot."