Lawmakers skeptical about NYPD body cameras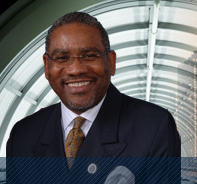 What good will the New York Police Department's body camera program offer?
That's the question being posed by some New York lawmakers after a Staten Island grand jury decided not to indict a white officer who choked Eric Garner, a Black man, to his death. Garner's altercation with police was caught on camera, which they said proved that the officer, Daniel Pantaleo, used "excessive force."
"What good is a body camera?" asked U.S. Rep. Gregory Meeks, D-Queens, Nassau, at a recent press conference in Washington. "A body camera is supposed to be utilized so you can see the facts of what took place. So, in effect, we had a body camera here. We've seen it all."
The lawmaker alluded that there was enough evidence to show that Garner posed no threat to officers.
"If you look at the video, you see Eric Garner held up his hands … not going towards anyone. Something is fundamentally wrong. In 2014, it couldn't be in the great United States of America, where we go all over the world and talk about violation of human rights," Meeks added.
Fellow Rep. Hakeem Jeffries, D-Brooklyn, Queens, who co-signed a letter to the United States Department of Justice in August to launch a federal probe into Garner's death, called the jury decision a "miscarriage of justice."
"What more does America need to see? Jeffries questioned. "The video is living, breathing probable cause that a crime occurred. [Garner] begged for his life. It is indescribable that the grand jury could not returned a single charge."
The NYPD launched a pilot body camera program three days after the grand jury decision in an effort, Commissioner William Bratton said, to record interactions between officers and civilians.
"It really does provide the ability to deal with the he said-she said issue," said Bratton.
On July 17, Garner, 43, was approached by officers for allegedly selling untaxed cigarettes on Staten Island. The incident was recorded on a cellphone by a passerby. It showed Pantaleo placing his arm around Garner's neck, a move the NYPD has banned, in an effort to take him to the ground. Garner can be heard repeatedly saying to the officers, "I can't breathe." His death was ruled a homicide days after by the city medical examiner's office.
When asked by reporters at a recent "Justice for Eric Garner" rally what she thinks about the pilot program, Garner's mother, Gwen Carr, said, "Trash that. [Officers] are in control of the body cameras. It didn't make a difference to the grand jury. It's a waste of money."
The pilot program is being funded by the private funds from the Police Foundation. It will run for three months and costs $50,000, Bratton said. Fifty-four officers across the city in six precincts will voluntarily participate.
State Sen. Jose Peralta, D-Queens, concurs with Bratton's belief that the camera program will help change how officers behave. However, he said cameras are not enough to address police-community relations. He has called for "grassroots change" and has asked Gov. Andrew Cuomo to enact policing and criminal justice reform measures.
"A profound move has to be made," Peralta said. "We have to put pressure on the governor. We need reforms, and we should remind him that we were there when he needed our votes."
In a recent interview on "The Capitol Pressroom," Cuomo said he will push for reforms in police practice and the grand jury process at the next legislative session in January 2015. Camera