It was an 'Amen' moment at the Apollo
Herb Boyd | 2/6/2014, 2:21 a.m.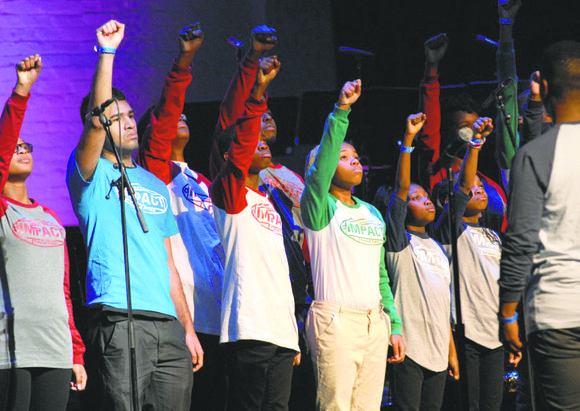 With such luminous luminaries as Lalah Hathaway, Valerie Simpson and Regina Belle on the program at the Apollo Theater last Friday—on the cusp of Black History Month and two days before the Super Bowl at MetLife Stadium in New Jersey—it was a no-lose concert, one made all the more a guaranteed success with Jonathan Batiste, Arturo O'Farrill and Alex Bugnon giving the baby grand delightful moments of sound.
From the opening moments of what was billed as "Friday Night in Harlem—Let the Music Say Amen," a phrase given extra resonance from the always pleasant voice of master of ceremonies Imhotep Gary Byrd, trumpeter Joey Morant brought the audience to its feet with a soaring version of the African-American national anthem. He was equally compelling on "America the Beautiful," with his notes touching practically every niche of his horn and the hearts of the listeners.
After accepting the Louis "Satchmo" Armstrong Jazz Legacy Award, Batiste, himself a homeboy from New Orleans, presented a blistering rendition of "The Star-Spangled Banner," and there were moments when you actually thought you heard bombs bursting in air, given his often explosive runs up and down the keyboard.
It was a nice counterpoint to the songs by the IMPACT Repertory Theatre in their tribute to the late Nelson "Madiba" Mandela. The group's first number sounded like a melodic Swahili folk song, and there was no doubt about the second one: the South African national anthem.
There was a bevy of awards given on a night honoring many alumni of historically Black colleges and universities, but before these men—along with Earl "The Pearl" Monroe's wife—lined the stage, Gerri Warren-Merrick received a leadership award from the Greater N.Y. chapter of the Links, presented by Manhattan Borough President Gale Brewer and Amsterdam News Publisher and Editor-in-chief Elinor Tatum. Legendary vocalist Lloyd Price, whose "Lawdy Miss Clawdy" was a favorite in the '50s, was the recipient of a music award in recognition of his pioneering work in the realm of rhythm and blues, and Rep. Charles Rangel joined him onstage along with Chuck Jackson, who briefly serenaded his fellow bluesman.
The Manhattan School of Music Jazz Orchestra, featuring solo performances by trumpeter Cecil Bridgewater and pianist/composer O'Farrill, offered an olio of Duke Ellington tunes, none more captivating than their closing number, "C-Jam Blues," which is just as familiar as "Duke's Place."
Jeff Burns Jr., Emerson Boozer, Howie Evans, Bill Rhoden, Winston Majette, Frank Savage, Pam Oliver, Robert McCullough, Dr. Enrique Riggs and the Rev. Michael Waldron were among those saluted as alumni of historically Black colleges and universities. At this point, those in the show needed a moment to catch their breath after energetic performances by the Mass Choir of First Corinthian Baptist Church.
Bugnon and crew, with Victor Bailey on bass; Lenny White on drums; and a bluesy guitarist who had all the pluck and style of B.B. King accompanied Hathaway and Belle. Simpson did her earlier set at the piano, leading the Mass Choir in a commanding but tender reading of "Reach Out and Touch Somebody's Hand." She was given the Mahalia Jackson Legacy Gospel Award.