It was an 'Amen' moment at the Apollo
Herb Boyd | 2/6/2014, 2:21 a.m.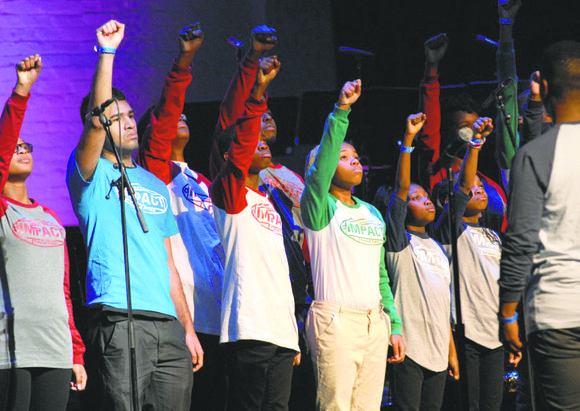 Hathaway, fresh from earning her first Grammy, wasted no time capturing the audience's attention with a sweet ballad that had the earmarks of her late father Donny Hathaway. In her second number, she demonstrated her facility, scatting Thelonious Monk's "Straight No Chaser," which had a few Betty Carter licks and some Ella Fitzgerald at the fringes.
With four Grammys to her credit, Belle opened with a surprising tune, "Lazy Afternoon," which only a few old-timers familiar with the music of June Christy or Chris Connor would know. Even so, her powerful voice was reminiscent of a near namesake, Patti LaBelle, but with its own sense of drama and dynamics.
Greater Harlem Chamber of Congress President Lloyd Williams briefly summarized the evening, reminding folks that the Chamber was celebrating its 40th year, and thanking the various organizations who helped pull the momentous evening together, including the New York state Chapter of the NAACP, represented by Hazel Dukes; WBLS-FM, with Deon Levingston in attendance; and the New York Road Runners' "Mighty Milers," and it was a special treat to see a half dozen of the tiniest female joggers on stage.
Before Byrd could bid the crowd goodbye, somebody hollered, "Let the Apollo say amen," and that praise song echoed through the long line of spectators, many of whom were making their way to Dinosaur Bar-B-Que to recount what they had so joyfully heard and seen.