Ebony Escapes! to Hannibal, Mo.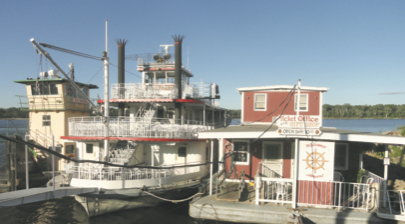 I knew that Mark Twain and the "Unsinkable Molly Brown" of Titanic fame were part of the rich history in Hannibal. But as I learned, there is a great deal more to this quaint Missouri town than meets the eye.
Located in northeast Missouri just a stone's throw over the Mississippi River from Illinois, Hannibal, with a population of just under 18,000 people, is approximately 100 miles from St. Louis, 200 miles from Kansas City, 237 miles from Springfield, 292 miles from Indianapolis and 295 miles from Chicago. It's this location that makes it a short, easy drive for the thousands of visitors who come here each year.
The area's original inhabitants were the Fox, Sauk (Sac) and Ojibwa (Chippewa) Native American tribes—the latter said to have named the Mississippi the "Misiziibi" (which means "Great River")—followed by the French around 1680, with the town eventually getting its name when a tiny waterway flowing through the region was named "Hannibal" after a famous general from Carthage (now Tunisia in North Africa).
What would be considered the first "modern" housing here came in 1819, when steamboat captain Moses D. Bates built a
log cabin, essentially founding Hannibal and transforming it into a major commercial waterway. Within the next four decades, Hannibal had grown to become the second largest city and the third commercial center in Missouri.
Hannibal's past and present
To get a good grasp on the town's early founding and enterprises, be sure to visit the Hannibal History Museum, which features a wealth of historic artifacts, photos, memorabilia and more in numerous fascinating interactive exhibits and displays. Each one offers a unique look at Hannibal's divergent industries, including the riverboats, flour mills, railroad, pork-packing plants and lumber yards. In fact, it was the latter that became wildly successful, with major operations creating what were eventually referred to as millionaire "Lumber Barons," in the process making Hannibal into one of the wealthiest cities in the state.
Hannibal also played a significant role as "a border town in a border state" during the Civil War. The town was occupied by the Union Army during this conflict, and pro-slavery and abolitionist forces clashed here while slaves were aided along the Underground Railroad across the Mighty Mississippi to freedom in neighboring Illinois.
Guided trolley car tours—or if you'd prefer to meander at your leisure, self-guided tours—offer visitors an opportunity to see and explore of the many of sites and attractions dotted throughout town. Among these are the Dulany-Mahan House, an early example of the Frank Lloyd Wright prairie home style; the Oliver Whaley House, built in 1883 in the Italianate style for this well-known clothier; and Cliffside, a Georgian style structure built in 1912 by Chicago architect Howard Van Doren Shaw for philanthropist W.B. Pettibone, just to name a few.
"Good friends, good books and a sleepy conscience: This is the ideal life."—Mark Twain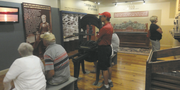 Not surprisingly, you will find a myriad of entities named after Hannibal's famous son, Samuel Langhorne Clemens, known the world over as the beloved writer Mark Twain. Born just a short distance from Hannibal and moving here with his family at the age of four in 1839, Twain went on to become one of the world's most prolific and well-known writers. It was here that he created some of his most iconic characters based on the lives of those he knew while growing up in Hannibal, many of which were featured in his perhaps most famous works, "The Adventures of Huckleberry Finn" and "The Adventures of Tom Sawyer."