Ebony Escapes! to Hannibal, Mo.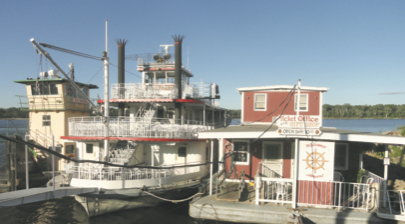 Visitors from literally all over the world are fascinated with the Mark Twain story, making the Mark Twain Boyhood Home and Museum the most popular tourist attraction in the region, continually operating here since 1912. Just a few blocks away, you'll find the bronze Tom and Huck Statue, situated at the foot of Cardiff Hill. If you take the 244 steps that wind up to Cardiff Hill Park, you'll come to the Mark Twain Memorial Lighthouse, offering picturesque, panoramic views of town as well as the Mississippi River. In season, the Mark Twain Riverboat is a popular attraction, offering one-hour sightseeing and two-hour dinner Mississippi cruises peppered with Hannibal and river lore and more. Just a one mile south of town, the Mark Twain Cave Complex features Missouri's first show cave—the Mark Twain Cave, a registered National Natural Landmark, first shown in 1886—and Cameron Cave, first discovered in 1925. While there, you can also buy tickets for "Mark Twain Live: The Life and Times of Mark Twain," a one-man show that "conveys the spirit, wit and fun-loving nature of the man that came to be known as 'The Wild Humorist of the West,'" with prose extracted from his many works and speeches.
In our next Hannibal sojourn, we'll delve into the town's Black history, other famous denizens, outstanding architecture and where to sleep and eat in this historic town.
---
Lysa Allman-Baldwin writes for numerous online and print publications, including as the cultural travel writer for www.Examiner.com and as a senior travel writer for SoulOfAmerica. com, an Afrocentric travel website. Lysa can be reached at lallmanbaldwin@kc.rr.com.
Resource list