Black actors get their due
Jordannah Elizabeth | 2/13/2014, 12:17 p.m.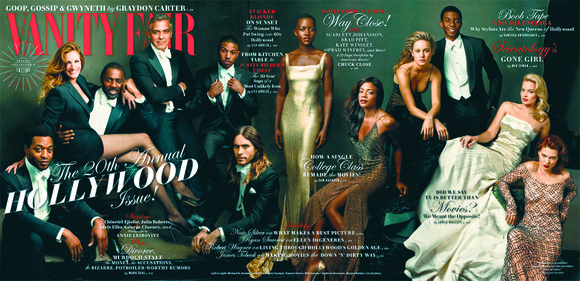 The release of Vanity Fair's annual Hollywood issue is an anticipated event in the entertainment industry. The magazine's glamorous cover highlights the previous year's most powerful actors and actresses.
2014 is an especially auspicious year for Hollywood's performers of color, as the magazine has a record number of Black stars gracing its cover.
With films like "Fruitvale Station," "12 Years a Slave" and "Mandela: Long Walk to Freedom" sweeping awards season this year, it should not be a surprise that Vanity Fair has taken notice of such penetrating performances from Black actors this year. Nonetheless, with half of the 12 actors on the cover being actors of color, the magazine has made history, breaking a trend of having actors and actresses of color being in the minority on the fold-out cover—and relegated to the inside fold—of the magazine.
Lupita Nyong'o ("12 Years a Slave"), Michael B. Jordan ("Fruitvale Station"), Naomie Harris ("Mandela: Long Walk to Freedom"), Chadwick Boseman ("42"), Chiwetel Ejiofor ("12 Years a Slave") and Idris Elba ("Mandela: Long Walk to Freedom") were modeling in breathtakingly gorgeous formal wear and representing a new cultural phenomenon in the entertainment industry.
Longtime Vanity Fair collaborator Annie Leibovitz will be photographing all 12 stars, along with veteran actors George Clooney and Julia Roberts, who were featured on the cover this year.
It has been a glamorous and groundbreaking ride for the Hollywood elite this year. The careers of some of these actors and actresses of color will never be the same. Nyong'o has been one of 2013's most celebrated style icons and has been said to be one of the most beautiful women in the business right now. Her sleek figure, classic and elegant style and unforgettable face are opening doors for her as a model and a tastemaker.
Let's hope the future continues to illuminate all of the well-deserving actors of color who have enjoyed the limelight with humility and class.