Brooklyn DA Ken Thompson sworn in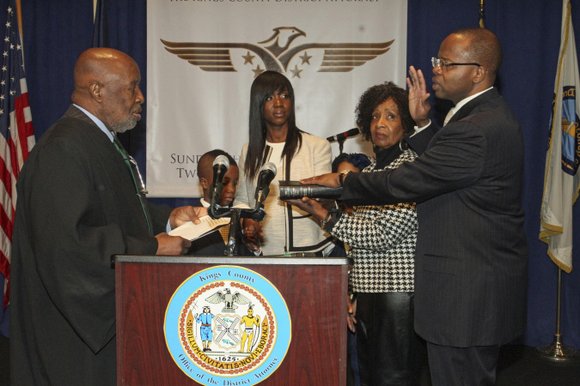 "It's a new day because I believe in equal justice for all, and that a prosecutor's main duty is to do justice—not just get a conviction," new Brooklyn District Attorney Ken Thompson told the Amsterdam News exclusively.
Noticeably, Christians, Sikhs, Muslims, Hasidim and some non believers too filled out an incredibly diverse audience of hundreds of people who packed Steiner Studio soundstage for the Sunday, Feb. 9 inauguration of Thompson, who Rep. Yvette Clarke called the "Jackie Robinson of the Brooklyn DA's office," as he is the first African-American to assume that position.
"Change has come to Brooklyn," said a passionate Letitia James, the city's new public advocate, at the lofty Brooklyn Navy Yard space. "And it came convincingly. It came as justice in action."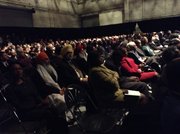 Thompson promised to be inclusive throughout his boots-on-the-ground summer 2013 campaign. To illustrate the point, invocations were offered by the Rev. Clinton Miller, Rabbi Dovid Goldwasser, Iman Shabhaz Ahmad Chisty, Pandit Keshav Jee and Bhai Bhupinder Singhji. Hezekiah Walker and his Love Fellowship and Manifest, with AmNews columnist Jonathan Hicks, blew the cobwebs out of the Navy Yard rafters. All were assembled to witness and celebrate the inauguration of the first district attorney of Kings County.
Sen. Chuck Schumer bragged about being a proud Brooklynite while declaring that in "2008, I did not serve under a Black president, a Black Brooklyn borough president or a Black DA. In 2013, I serve under a Black president, Barack Obama; a Black borough president, Eric Adams; and a Black DA, Ken Thompson."
Former NYPD-cop-turned-state-Senator-turned-new-Brooklyn-Borough-President Eric Adams quoted fellow Brooklynite Jay Z, joking that the borough might have "99 problems, but a Black district attorney ain't one.'
There was a host of effervescent speakers who came praise-laden and energized. After each speaker delivered their vision of hope and faith in the new administration, Thompson would get up from his seat and shake hands, hug and pose for pictures by the gaggle of photographers stationed stage right. He was seated in the front row with his wife, Lu-Shawn, children Kennedy and Kenneth, and his mom, Clara.
Host Jacque Reid asked the various groups to stand and be recognized, including the judges, elected officials, district attorneys, members of the clergy and the NYPD and law enforcement in general. The whole afternoon kicked off with a video presentation showcasing Thompson's heady journey to becoming Brooklyn's top attorney while Sam Cooke's song "A Change is Gonna Come" played in the background. Sometimes reminiscent of a big Hollywood award show, the line of speakers seemed never ending, including New York City Comptroller Scott Stringer, New York Comptroller Thomas DiNapoli, Bertha Lewis, Divinah Dee Bailey, Dr. A.R. Bernard and Douglas H. Wigdor.
Declaring that Thompson was a "fighter for justice long before he ran for DA," Schumer spoke at length about Thompson's commitment to crucial causes, such as fighting for justice for Abner Louima and battling to have the Department of Justice reopen the 1955 murder case of Emmett Till. Rep. Hakeem Jeffries spoke of his long friendship with the man now entrusted to protect the rights of a mighty borough. Rep. Nydia Velazquez had faith that Thompson would work to ensure a fair legal system would be in effect because "whether you live in public housing or own a brownstone in Brooklyn, you are in entitled to justice." Fellow Rep. Jerrold Nadler deplored the "cancer in the legal system," but had confidence that Thompson is "the right surgeon to excise the cancer."