Unlike Shirley Chisolm, many Black leaders are 'Bought and Bossed'
CHARLES BARRON | 2/13/2014, 12:02 p.m.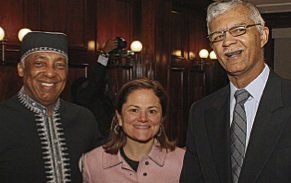 It seems as though many Black leaders prioritize delivering the Black vote to white politicians like Gov. Andrew Cuomo and Mayor de Blasio, and in return, they gain favor for themselves, all while the Black community continues to experience sky-rocketing unemployment and increasing poverty. That is a damn shame!
The Black community needs Black leaders who prioritize the needs of the people and who remain permanent friends in the struggle for liberation. If you will notice, I used the terms "some Black leaders" or "many Black leaders" throughout this article. That is because, thank God, we do have Black leaders who will not compromise their values and principles, Black leaders who are consistently committed to the Black community and courageously speak truth to power. These leaders do not get much attention admittedly, and finding that kind of leadership nowadays is like searching for the proverbial needle in the haystack. However, there is hope. I've seen the rise of this kind of Black leadership in other parts of the country and, believe it or not, right here in New York City. So there is hope.
Dr. Lani Guinier, in her book "Tyranny of the Majority," describes two kinds of Black leaders, one that is descriptively Black (looks like us) and one that is authentically Black (comes from us and is committed to us). Hey, Black leader, which one are you?
Charles Barron is an activist and former City Council member.