Ebony Escapes! A resort spa experience like no other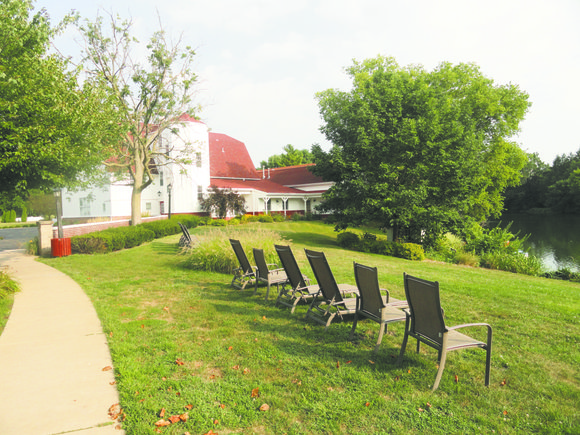 Remember the phrase, "You had me at hello," uttered by Renee Zellweger in the movie "Jerry Maguire"? Well, the Heartland Spa and Fitness Resort totally had me at: "We provide you with a T-shirt, shorts, sweat pants and sweatshirt. After you wear them, just put them outside of your door and we will bring you another set. We do that so you don't have to pack that much to come and enjoy it here."
The timing of the spa roundup email I received was perfect, in that I had decided a few years ago that for my 50th birthday, I wanted to treat myself to a destination spa vacation, one where I could be completely pampered from head to foot, mind, body and soul and not have to lift a finger if I didn't want to, including to open my wallet to pay for meals either on-site or close by. What I got was so much more than I bargained for.
"Pamper, Nourish, Thrive, Relax"
This is the Heartland Spa's mantra, and it's easy to embody it once you arrive on the grounds, situated on a former 32-acre dairy farm in the pastoral and wooded Illinois countryside, just 90 miles south of Chicago. Guests generally drive there from the Windy City or Springfield (only two hours), Indianapolis (two and a half hours) and Louisville or St. Louis (both about four hours). The resort's boutique size is one of the many features that attracted me, pampering a maximum of only 41 guests with a two-to-one staff-to-guest ratio. Accommodations here are in the main 15-room country manor or for groups, in the adjacent guesthouse.
In addition to the clothing provided by the resort's "Clothing Fairies," the staff takes care of really any other personal items you might normally bring with you, including body wash, lotion, shampoo and conditioner and comfortable, full-size terrycloth bathrobes.
Guest lodging here ranges from two- to three-, five- and seven-night packages and includes three delicious meals a day, one or more spa treatments depending on the length of your stay and all of the resort's amenities.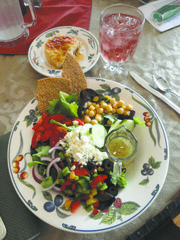 Soup's on!
In most households, this is the loud announcement that dinner is ready. Not so at the Heartland Spa.
When it's time for breakfast, lunch or dinner, a member of the culinary staff meanders about the property gently ringing a cowbell—at the pond by the chaise lounge chairs; on the fringe of the expansive great lawn; in the library/game room (the Wood Room) and near the main relaxation room (the White Room). It's a lovely way to become aware of the time, because I dispensed with my watch the moment I first checked in.
Because the focus here is on health and wellness, the menus are tailored toward a low-calorie daily intake with primarily vegetarian fare easily tailored to suit any special food preferences or allergies. But don't take that to mean, tasteless, boring, and that you are starving between meals. On the contrary, the dishes were so flavorful, nutritious and artfully created, if you didn't tell me everything was low-fat and low-calorie, I would have had no idea, as each meal was more fantastic than the last.