The 'Greatest Show on Earth' has a Black Ringmaster!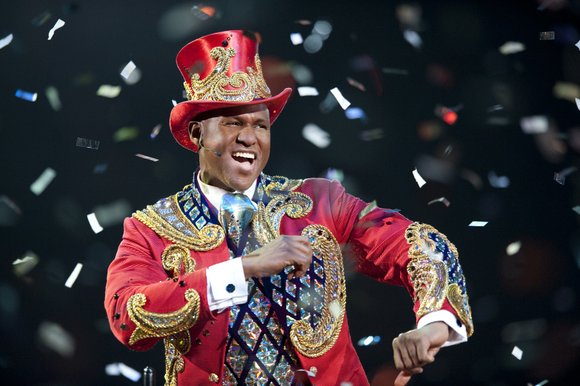 AmNews:What do your children think of what daddy does for a living?
J.L.I.: They both love the sight of me in costume, especially my daughter. She loves to sing my songs, and she sings them rather well.
AmNews:The 144th edition is called "Legends." What are some of the acts that audiences should expect to see?
J.L.I.: As always, the "Greatest Show on Earth." With this show, we pay homage to the mythical, magical and even prehistoric. Included in our world-famous menagerie of majestic elephants, vigorous lions and tigers, rescue dogs, gallant steeds, perky pigs, fabulous kangaroos and a whole host of exotics, is a pegasus, unicorn and a woolly mammoth. The two-legged mammals are pretty cool as well. You're going to be blown away by the "King of the Big Cats," Alexander Lacey; everyone's favorite little big man, Paulo; the "First Family of Daring," the Torres and their "Globe of Steel"; the record-setting feats of the China National Acrobatic Troupe; and the brilliance of the Solar Hawks, with original music performed by myself and the legendary Ringling Bros. and Barnum & Bailey Band.
AmNews:When is the show going to play the Barclays Center?
J.L.I.: We open at the Barclays Center Feb. 20 until March 2. I cannot wait! It will be my first visit to the new Brooklyn facility, and they are in for a legendary treat!
AmNews:You had previous experience performing in front of a crowd, being part of the Boys Choir of Harlem, performing on a Broadway stage and in Central Park. How do the feelings you had when you were younger and at those specific moments in your life compare with how you feel when you are out in your costume and announcing from the ring?
J.L.I.: I think of where I would be now had my mother allowed me to quit the Boys Choir of Harlem. Actually, I shudder to think about it. I am so grateful for those long, arduous rehearsals after school. All of those rehearsals, all of those lessons, all of those many miles traveled make up the confidence I feel every time I step on to the arena floor before thousands to present the "Greatest Show on Earth."