Senegal Cracks Down on Foreign Ships for Decimating Nation's Fish Stocks
2/20/2014, 2:41 p.m.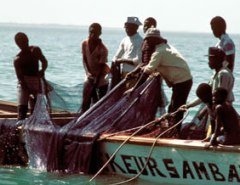 Jan. 7 (GIN) – Senegal's Minister of Fisheries has ordered the detention of a Russian trawler observed illegally catching fish in Senegalese waters. The move immediately won high praise from bloggers on the internet.
"Keep the fish, Charge a BIG FINE. If the Russians don't pay, KEEP THE BOAT and sell it," wrote "Bob" on the Yahoo comments page. Michael B wrote: "Good for the Senegal government for taking this action against foreign fishing vessels that are stealing and destroying what isn't theirs. This illegal fishing needs to be stopped and this is an excellent start."
Senegal loses about $311 million per year because of illegal fishing by foreign trawlers, according to the US Agency for International Development.
The Oleg Naidenov was boarded by the Senegalese Navy after it was spotted fishing near the border with Guinea Bissau, according to a military spokesman.
"This ship is a repeat offender," charged Senegal's Fisheries Minister and ecologist Haidar El Ali. Sixty-two Russians and 20 nationals from neighboring Guinea-Bissau were ordered confined to the ship.
A spokesman for the Russian federal agency for fisheries, Rosrybolovstvo, dismissed the charges  and claimed Russia had not been officially informed about the reason for its detention.
For years, large fishing vessels from Europe and other regions have used mechanized equipment to scoop up the greater part of African fish stocks for the dinner tables of rich countries or for their animal feed.
"There are about 50 such ships operating off our coast, entering [Senegalese territorial waters] fraudulently from time to time. We will not allow this," Mr Ali said.
The Oleg Naidenov has also been a target of Greenpeace activists who two years ago painted the words "pillage!" and "plunder!" on the side of the ship's hull after they discovered it fishing illegally -- with canvas covering its identifying markings -- in Senegalese waters. The Oleg Naidenov is on a blacklist of poaching vessels in West African seas.