Barron: 'Cuomo is disenfranchising a million Black and Latino voters'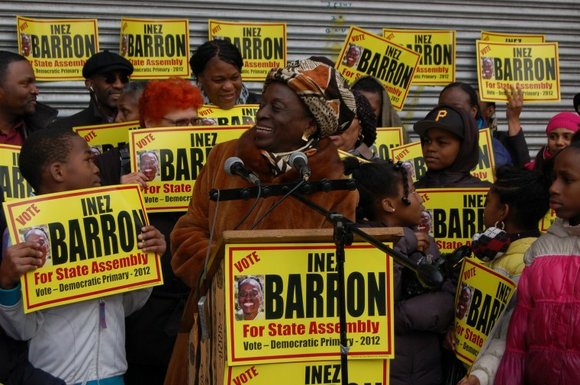 "Gov. Andrew Cuomo has no regard for Black or Latino people," charged Council Member Inez Barron, as she held a press conference on the steps of City Hall to highlight a City Council resolution demanding that the governor call for special elections to fill 11 legislative vacancies in the state Assembly and Senate, including her past Assembly seat, which she left when she ran and won the City Council seat of her husband, Charles Barron.
"As far as I am concerned, this is an issue of disenfranchising Black and Latino people, and it is being perpetrated by the governor, because he alone is the one who can call for a special election. If he doesn't call for anything prior to June, there will be no representation for a million people for a whole 12 months," said Inez Barron.
The governor did not want to respond to Inez Barron's charge. Instead, a spokesperson referred the Amsterdam News back to a statement that the governor gave a couple of weeks ago on Susan Arbetter's radio show. when Arbetter asked, "Are you going to call special elections for the 11 open seats?" Cuomo responded, "We are looking at that now. You know, it seems like every week there is another open seat given the travails of our friends in the Legislature. If you have to do special elections, they are very expensive to do because you basically have to run a separate election operation. So it is obviously something you don't want to do lightly. I would like to know what the legal effects are, and I would like to know, on a practical level, how many more shoes are going to drop here and how many people are going to be leaving office."
Inez Barron reiterated that Cuomo's flippant responses illustrate his blatant disregard for Blacks and Latinos.
"In December, he said there were no vacancies. When the seats opened up in January, he said he had to weigh the financial costs, and he has not made any pronouncements since then, so I introduced a resolution which calls on the governor to call special elections for all areas—nine in the Assembly, two in the Senate, six of which are in downstate New York City—representing 700,000 people. East New York, part of Canarsie, part of the Bronx and part of Crown Heights—all Black and Latino areas.
"There is no dollar amount on Black and Latino people being able to have representation. The Black, Latino and Asian Caucus here in the City Council are unanimously support the resolution, and Congresswoman Yvette Clarke has composed a letter, and it has been signed off on by Assembly Member Karim Camara and several others. We had a hearing today, and [attorney] Joan Gibbs came and gave testimony on behalf of the Center of Law and Social Justice; others talked about the effect of not having representation."
Inez Barron said that people in her district are upset that they have no voice in Albany, because "in addition to not having representation during the budget process, during the legislation negotiation when everything is set, we don't have people working in our district offices."