Barron: 'Cuomo is disenfranchising a million Black and Latino voters'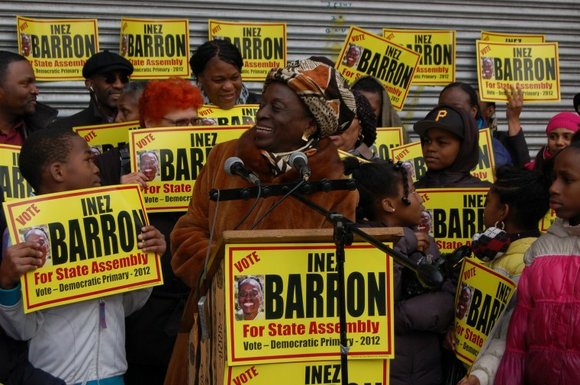 Noting the opposition to special elections, Inez Barron stated, "Someone said that good government groups are opposed to the special election because it favors the machine, who gives the party line to the person of their choosing. Well, that may be, but there has been legislation for two years or more to change it, so they can put the pressure on the legislators to change it."
Perhaps there is another issue. Charles Barron, the oftentimes controversial activist politician, served three terms as the East New York councilman, and his seat was won last November by his wife, Inez. A special election is needed to fill her seat, and opponents decry the fact that Charles would be a shoe-in for the Democratic nomination.
"I didn't know you were that powerful," one upstate lawmaker told Charles Barron last month. "Word is Cuomo doesn't want you upstate in the Legislature, so he is stalling on all of the elections."=
Asked to comment on reports that Cuomo is holding back because her husband would be running for her now vacated Assembly seat, Inez Barron simply laughed and said, "I know he knows Charles' voice. He knows his position, he knows his strength and he knows that he will be confronted by Charles Barron on any of the issues that do not speak to justice for us."
Inez Barron said Cuomo was single-handedly denying representation to Black and Latino communities by not allowing vacant Assembly and Senate seats to be filled. "These Black and Latino communities do not have a seat at the table or a voice in the current budget and legislative negotiations."
While Cuomo cites cost as one reason for not holding special elections, Inez Barron says that during this crucial budget season, it is undemocratic not to have upstate representation for the Black and Latino communities.
Barron and her colleagues determined that almost a million Black and Latino constituents were not getting representation while Cuomo procrastinated, not calling for what should be automatic elections. While the governor is umming and aahing, hundreds of thousands of mostly Black and Latino residents have no representation and are not getting services at their local district offices to address pertinent issues concerning them, especially during current budget and legislative negotiations. "This comes down to the basic issue of taxation with no representation," Inez Barron told the AmNews.
"While our communities are facing drastic cuts to health care, while the state government has not abided by the financial settlements due to the New York City regarding the Campaign for Fiscal Equity … while Black and Latino children are denied their fair share of state funds, Gov. Cuomo has decided to impose taxes on 11 communities, without the benefit of representation," she said.
Cuomo has withheld the reasons why he refuses to call elections for the 11 vacant districts. Barron proclaimed, "He is not saying anything. And even if he says we will wait until June, the session is over and our people would have no involvement in issues such as hospitals. There are some critical issues regarding Brooklyn hospitals, and they won't have a voice in that, plus all the different social programs. We are the neediest community. Over New York state, a million people are impacted. It's far beyond what people are doing in any one district. Many people across the state are being disenfranchised."
According to Inez Barron, homeowners with an array of issues are coming to her City Council office to ask advice.
"Our communities are entitled to be at the table, to participate in the process of forming a budget, making allocations, funding groups and funding organizations that participate in delivering services," she said.
Inez Barron is not the only elected official to have vacated her seat; there are five others, including new Brooklyn Borough President and former Sen. Eric Adams, recently convicted former Assemblyman Eric Stevenson and new City Council Members Vanessa Gibson, Alan Maisel and Rafael Espinal.
"[Cuomo] doesn't care about Black people," Inez Barron continued. "He has been disrespectful of the Black Caucus.
"We are looking forward to the Caucus Weekend because thousands of people will be there and make this a statewide issue."
Additional reporting by Patience Edet Goanue.