Federal judge throws out lawsuit challenging NYPD spying on Muslims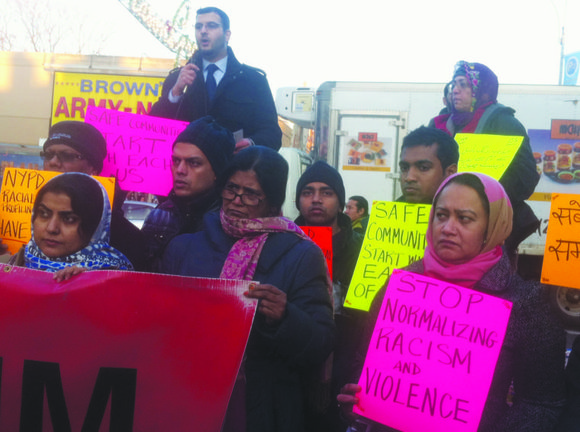 Is it OK to profile Muslims? The answer depends on who you ask.
"The program was not solely to discriminate against Muslims, but rather to find Muslim terrorists hiding among ordinary, law-abiding Muslims."
This was United States District Judge William Martini—a George W. Bush appointee—in his final judgement as he dismissed a lawsuit that challenged the constitutionality of the New York Police Department's surveillance of Muslim-American communities in New Jersey, saying that it was a lawful effort to prevent terrorism that didn't violate civil rights.
The suit, Hassan v. City of New York, was filed in 2012 by the Center for Constitutional Rights and Muslim Advocates in representation of several mosques, Muslim-owned businesses and individuals, including an Iraqi war veteran. The case followed a Pulitzer Prize-winning series of stories reported in 2011 by the Associated Press. The reports, which relied heavily on confidential NYPD documents, said the NYPD infiltrated dozens of mosques and Muslim student groups in New York colleges.
The plaintiffs argued that Muslims were spied on solely based on their religion. They said the act has prevented them from going to mosques, Muslim-owned businesses and other related activities. However, in Martini's written ruling, filed at U.S. District Court in Newark, N.J., on Feb. 20 in a 10-page opinion without an oral argument, he said that the court considered the plaintiffs' claims of discrimination from NYPD's Muslim surveillance program not "plausible." He dismissed the case for having a "lack of standing."
"None of the plaintiffs' injuries arose until after the Associated Press released unredacted, confidential NYPD documents and articles expressing its own interpretation of those documents," Martini wrote, as he singled out and condemned the Associated Press for reporting on the surveillance program.
"Nowhere in the complaint do plaintiffs allege that they suffered harm prior to the unauthorized release of the documents … This confirms that plaintiffs' alleged injuries flow from the Associated Press' unauthorized disclosure of the documents. The harms are not 'fairly traceable to any act of surveillance,'" Martini's ruling further stated.
In response to the court ruling, Baher Azmy, the legal director at the Center for Constitutional Rights, said in a statement, "In addition to willfully ignoring the harm that our innocent clients suffered from the NYPD's illegal spying program, by upholding the NYPD's blunderbuss Muslim surveillance practices, the court's decision gives legal sanction to the targeted discrimination of Muslims anywhere and everywhere in this country, without limitation, for no other reason than their religion."
The AmNews contacted Linda Sarsour, the executive director of the Arab American Association of New York, for a comment, but she did not respond by press time.
A similar lawsuit against the NYPD, Raza v. City of New York (Legal challenge to NYPD Muslim Surveillance Program), was filed by the American Civil Liberties Union, New York Civil Liberties Union and the Creating Law Enforcement Accountability and Responsibility (CLEAR) project of Main Street Legal Services at CUNY School of Law on June 18, 2013, on behalf of five plaintiffs and Muslims Giving Back, a Brooklyn-based Muslim nonprofit charitable organization. The case is pending at the United States District Court for the Eastern District of New York. The city of New York, former Mayor Michael Bloomberg, former Police Commissioner Raymond Kelly and former Deputy Commissioner of Intelligence David Cohen are listed as defendants.