General Motors diversity communications shines during 45th annual NAACP Image Awards Weekend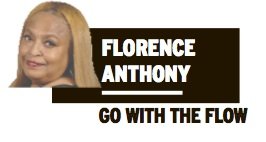 As a sponsor of the NAACP Image Awards, which took place on Feb. 22 in Pasadena, Calif., General Motors took time out to educate select members of urban media about the fantastic work that Crystal Windham, the first African-American woman to be named director of design for Chevrolet passenger cars and small crossover interiors, is doing.
At a sumptuous brunch on the afternoon of the awards at the Langham Hotel, hosted by Jocelyn K. Allen, regional director of GM grassroots diversity, Windham not only shared her passion and vision for her work at the automotive company, but she also gave everyone a close-up and personal view of her current pride and joy—the 2014 Chevrolet Impala.
Guests enjoyed a private pre-awards "Media Welcome" dinner on Feb. 21 at redwhite+bluezz. As some were dining in Pasadena, Harlemites Shola Lynch and Sidra Smith picked up a statuette for Best Documentary for their moving film "Free Angela" at the Pre-NAACP Image Awards.
The following night was an evening that honored the many accomplishments of people of color. The live telecast was held at the Pasadena Civic Auditorium. A VIP reception hosted by TV One Chairwoman Cathy Hughes, who was ravishing in a red evening gown, preceded the awards ceremony. Hughes was escorted by legendary radio host Tom Joyner.
It was hosted by the always funny Anthony Anderson and the big winner of the night was Kevin Hart, who took home the award for Entertainer of the Year, as well as Outstanding Actor in a Comedy Series for his work on BET's "Real Husbands of Hollywood."
Outstanding Motion Picture went to "12 Years a Slave," which won four awards in total, including Best Supporting Actress for "It Girl" Lupita Nyong'o and Outstanding Writing on a Motion Picture for John Ridley.
Nyong'o praised Oprah Winfrey, who she beat out once again, calling it "a deep, deep honor to be holding this trophy." 
Meanwhile, Winfrey delivered a heartfelt tribute to late South African President Nelson Mandela midway through the ceremony. 
Other winners included Angela Bassett, Forest Whitaker (who also received a special tribute for his philanthropic work), Gabriel Union, Wendy Raquel Robinson, Brandy Norwood and a very pregnant Kerry Washington, whose popular show "Scandal" won Best Dramatic Series.
The wonderful experience culminated with a post-awards gala that served a traditional soul food menu of fried chicken, macaroni and cheese and collard greens.