Last memories of Chokwe Lumumba
Editorial
Herb Boyd | 2/27/2014, 10:17 a.m.
By then he had changed his name from Edwin Taliferro to Chokwe Lumumba. Chokwe, he told us, was for the people in Africa who valiantly resisted the advances of European domination, and Lumumba for the fallen hero of the Congo, Patrice Lumumba. His life from that point forward would embody the spirit of his namesakes.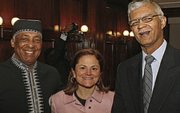 Fast-forward to the 1980s and 1990s. I would occasionally hear about him and his fascinatingly productive legal career that was gradually morphing into a political one with aspirations for elected office. In 2011, when he led the protest to get the Scott sisters out of prison—they had served 16 years for a crime they didn't commit—it was the same old Lumumba I knew back in the day when he was on the frontline for a number of cases in Detroit concerning activists, as well as representing members of the RNA and their battles against state repression, especially in Mississippi. The Scott sisters were released by Gov. Haley Barbour.
When I learned of his mayoral bid two years ago, I immediately joined the wave of enthusiasm he commanded, and I was overjoyed by his victory last July.
I remember one day in the 1970s, he came by my office at Wayne State and we talked about Pan-Africanism, the RNA, Brother Gaidi (Milton Henry), Brother Imari Obadele (Richard Henry) and Kwadwo Akpan (Gerald Simmons)—who were alive then but are now all deceased. He was fully committed to the dream of carving out a nation in the country's Black belt.
He got a little bit of the land he sought as mayor of Jackson, and we can only guess how much more he would have achieved given a few more wonderfully productive years.