New York Post lies about Greater Harlem Housing Development Corp
Herb Boyd | 2/27/2014, 10:07 a.m.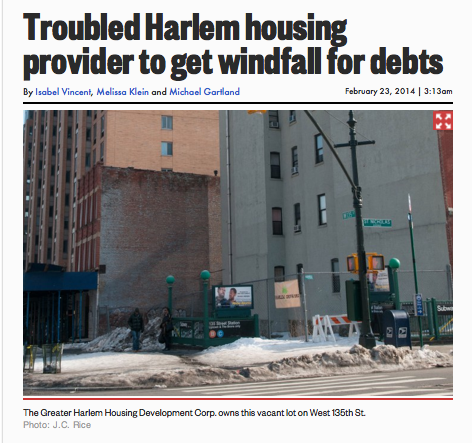 It is rather ironic that Black History Month is witnessing a withering attack on Black Americans no matter where or who they are. Ted Nugent's comments that President Barack Obama is a "subhuman mongrel" and his subsequent so-called apology, which accused Obama of being a "violator of the Constitution," is totally disrespectful but no less invidious than those coming from House Speaker John Boehner and Sen. Ted Cruz.
At a time when Black Americans have a few weeks for celebration, they discover they are being assailed from every quarter. Whether it's a woman in Oklahoma saying the president should be executed, to local leaders in communities of color taking fire from mainstream dailies, there appears to be little tolerance of and respect for Black or Latino leadership.
A case in point is a recent article in the Feb. 23 edition of the New York Post with a list of baseless charges against the Greater Harlem Housing Development Corp. (GHHDC) that is mainly centered on a small plot of land that has lain fallow and been an eyesore for 40 years. The article isn't a sentence old before the writers speculate on what will become of the possible $1.2 million the nonprofit organization will get for the vacant lot at 135th Street and St. Nicholas Avenue. They contend that "critics doubt the windfall will actually help needy tenants."
Who are these critics and why do they "doubt" that the potential money acquired from the sale will not be used, as already agreed to in writing, to serve the needs of the surrounding affordable housing developments, when in fact it was the GHHDC that chose to put the property on the market in the first place to assist their affordable housing mission?
Someone with intimate ties to the sale of the property is Henrietta Lyle, chairperson of Manhattan Community Board No. 10. "The GHHDC made an excellent public presentation to the full board of CB10 and the community, outlining their development plan for the lot sale," she explained in an email. "Their presentation was overwhelmingly endorsed and passed by a public vote of 25 for approval, one abstention and four nos."
Moreover, she took exception to GHHDC's president, Lloyd Williams, being described as a "Harlem power broker." Williams, in her estimation, "is better described as a highly respected and regarded leader in New York City as well as in the Harlem community and not a power broker. But if what he does makes him a 'power broker,' then so be it. We need to have a few more such power brokers."
Before dealing with some of the unfounded allegations, we should understand that any article in the Post is inevitably laden with mischief and venom when it comes to Black and Latino institutions and their leaders. Williams chose not to dignify the Post's allegations with any comment. Of course, going after Williams and other Black stalwarts of the community is nothing new from the minions at the Post. Three years ago, there were two hatchet job stories published with no validity and attribution to a number of absurd, undocumented accusations.