Amsterdam News: 2013 Year in Review (Part 2)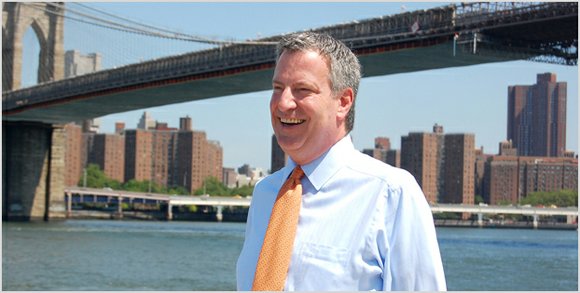 September
Tragedy strikes when 1-year-old Antiq Hennis is shot in his stroller during a shoot-out in Brooklyn.His father, Anthony Hennis, is the intended target.
Hundreds of thousands of people line Eastern Parkway in Brooklyn for the West Indian Day Parade on Labor Day. Political candidates use the parade to reach out to Black voters.
The city's primary elections set the stage for the general elections. Bill de Blasio becomes the Democratic candidate in the mayoral race, facing Republican Joe Lhota.
Letitia James wins the Democratic line for public advocate after a runoff with Daniel Squadron. Scott Stringer wins as the Democratic candidate for city comptroller.
Eric Adams wins uncontested for Brooklyn borough president.
Ken Thompson wins as the Democratic candidate for Brooklyn district attorney against Charles Hynes, who later runs as a Republican to regain his seat.
After five years in the position, Ben Jealous announces that he is resigning as president and CEO of the NAACP. Lorraine C. Miller is named CEO of the NAACP during the search for Jealous' replacement.
After a one-year hiatus, the 41st annual Urban League Classic returns to MetLife Stadium. The Benedict College Tigers beat the Virginia State University Trojans 30-14.
Tamika Mallory resigns as executive director of the National Action Network. Janaye Ingram is named as her replacement.
Al-Shabaab Islamic militants allegedly attack the Westgate shopping mall in Nairobi, Kenya, killing at least 62 civilians and wounding over 170.
The African American Day Parade takes place in Harlem.
The Million Youth March takes place in Harlem, bringing out hundreds of demonstrators who speak out against gun violence and racial profiling.
Aaron Alexis is killed by police officers after opening fire at the Washington, D.C., Naval Yard, leaving 12 killed and 8 injured.
The Bedford-Stuyvesant Restoration Corporation opens its $20 million renovation and redesign of its plaza in Brooklyn.
Federal prosecutors review the case of Ramarley Graham to determine whether his civil rights were violated.
Former AmNews co-owner John L. Edmonds dies at age 87.
Nina Davuluri, Miss New York 2013, wins the 93rd Miss America pageant.
Demonstrators hit the streets after 37-year-old Kyam Livingston dies of illness while in police custody after being held for seven hours with no medical attention.
Students at the City University of New York's (CUNY) Macaulay Honors College protest against former disgraced CIA Director Gen. David Petraeus teaching a class at the college.
The AmNews and Bill Lynch Associates host their annual Labor Breakfast.
Former New York City Mayor David Dinkins releases his autobiography, "A Mayor's Life: Governing New York's Gorgeous Mosaic."
Gay Men's Health Crisis Center Executive Director Marjorie Hill resigns.
October
The U.S. federal government shuts down for 16 days after Congress fails to enact legislation appropriating funds for fiscal year 2014 or a continuing resolution for the interim authorization of appropriations for fiscal year 2014.
The long-awaited Affordable Care Act, which gives access to health care to all Americans, takes effect. However, chaos ensues when those enrolling for the program experience widespread confusion along with technical issues with the program's website.
The National Association of Black Journalists hosts its Region I Conference and Media Institute in the city.
The African Day Parade takes place in Harlem.
Over 200 people, including Rep. Charlie Rangel, are arrested in Washington at a protest rally to put pressure on Congress to pass a comprehensive immigration bill.
The city is put on alert when 14-year-old autistic, nonverbal Avonte Oquendo runs out of his school in Long Island, Queens. Police and hundreds of volunteers search the city looking the teen.
Livonia Avenue between Barbey Street and Schenck Avenue in East New York, Brooklyn, is officially recognized as an African burial ground.
Celebrated Brooklyn Rep. Major R. Owens passes at age 77.
Newark Mayor Corey Booker is elected to the U.S. Senate seat for New Jersey.
Students at CUNY's City College protest the closing of the Guillermo Morales/Assata Shakur Center, an organizing space for students and activists.
Reports surface of several Black shoppers being victims of "shop-and-frisk," where shoppers are unfairly arrested and detained after making legitimate purchases at retailers, including Barneys and Macy's.
President Barack Obama speaks at Pathways in Technology Early College High School in Crown Heights, Brooklyn.
In the race for Brooklyn district attorney, Republican candidate and former District Attorney Charles Hynes in slammed for using a racial slur against Blacks in campaign material sent to Jewish voters.
The 2nd U.S. Circuit Court of Appeals overturns a federal judge's decision ruling stop-and-frisk unconstitutional.