On the Verge: 'Anchorman 2' love interest Meagan Good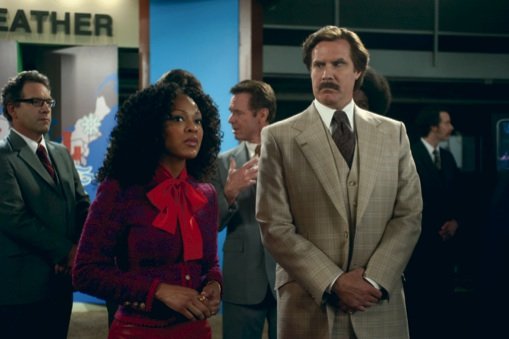 Meagan Good surprised me and continued to do so for our entire interview. She's not at all what I expected, and I'm tickled magenta that such a young, groovy earth mother is on the side of good.
Good is currently flexing her comedy chops as 1980s cable news executive Linda Jackson, the woman in charge of Ron Burgundy's changing world in "Anchorman 2: The Legend Continues," which Will Ferrell co-wrote with director Adam McKay. It's a holiday hit that was holding the No. 2 spot at press time.

This signature role has placed the young actress, who is best known for her supporting parts in the niche comedies "Think Like a Man" and "Jumping the Broom" and her lead role in the canceled NBC drama "Deception," in the big time!
What really struck me about Good was her easygoing style, which is demonstrated in her philanthropic activities, most of which concern the future of young women of color.
She also loves God and isn't afraid to profess it, and while that might turn some readers way off and attract others way too closely, let me share that my impression was that Good wasn't that she was a broken record or mouthpiece for religious zealots. I've interviewed, lived with and debated against those passionate types from many religions, and Good doesn't qualify for that group.
I was on assignment at Eden Spa, researching the perks of celebrity and submerged in a deep, wooden bathtub filled with soft, fragrant rose petals, when my phone rang and smashed my serenity. My minuscule masseuse reluctantly stopped and let me do my job.
"Hello, it's Meagan," Good said. That cheery statement was followed by 60 seconds of silence. Patiently, I waited for the Paramount publicist to connect me. "Hello," the chipper voice repeated. "It's Meagan, Meagan Good."
This was the first surprise. She had dialed me directly from her cellphone. There were no layers of Hollywood "people"—just Good calling.
Here's what she had to day about kissing, comedy, enjoying spas, helping others and her love of God.
AmNews: It's you? Wild. Well, how are you, Ms. Good?
Good: Great. We just had the NYC premiere of "Anchorman 2: The Legend Continues," and I'm kind of exhausted.
You're in NYC? We should have done this interview at Eden Spa! It's wonderful, and I'm in total zen. Come down now. Ying [the owner of Eden Spa] just made me lunch!
OMG. I would in there in a New York minute, but I'm flying back home [to L.A.] tonight. Can I [take a] rain check? I love a good spa day. You do sound very zen.
I'll arrange it with Eden. You were so funny in the movie, and I'm not just gushing because I'm being pampered like I know Oprah and Gayle! How was it working in the old boys club of comedy? They are heavy hitters!
The boys treated me like a princess. It was an atmosphere of great support and much laughter. No pranks—just fun on top of fun!