On the Verge: 'Anchorman 2' love interest Meagan Good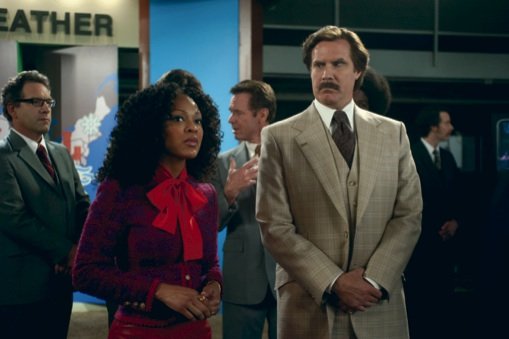 Your character, Linda Jackson, is in charge. It was such a welcome surprise! Any more surprises?
The first "Anchorman" is one of my favorite comedies, so I was very pleased when the shoe that I threw in the audition got me the gig!
Sweet. My colleagues have written, at length, about the racial jokes enough, I think. Comedy is a good way to show just how stupid the "-isms" are!
Agreed. That's the beauty of comedy. It disarms people.
What's your favorite comedic film?
Anything that Kevin Hart is in!
That's a lovely shout-out to Hart. Sweet. You sound and feel very "un-Hollywood." How did that miracle occur?
Thank you. I grew up in the Canyon Country community of [Santa Clarita, Calif.]. My father, an LAPD officer, was strict. I also started working in the industry fairly early, but my love of God keeps me focused. I'm answering to a higher source.
Amen. Wow, I'm shocked twice. A Hollywood Christian! Single, married, engaged?
Married, and here comes another shock …
I'm still sitting in the tub at Eden, so hit me with your best shot!
My husband is an executive at Columbia Pictures.
That's not a shock! You're stunning, and you would make a great Hollywood wife. Congratulations, by the way!
Thank you. His name is DeVon Franklin, and he's also a minister.
Lovely. Say, what now? A minister and a Tinseltown power broker? That is a lovely shock! Is it really possible to be loyal to the morality of the faith and succeed in Hollywood?
Absolutely! My husband and I uplift one another while we lovingly promote the kingdom. I've turned down roles that didn't reflect my values, and I suspect that I'll turn down more. God is everything and first in my life. Hollywood, it's a job—a good job. I love my work, but my heart is locked on heaven, and I love God far more!
You've told the world that you want to play the late Whitney Houston-I watch "Arsenio!" Hey, the next time you're in NYC, will you hang with me at Eden Spa?
I'm there, and then I can also give you the details on a new not-for-profit that I've formed with my sister. The focus is to uplift young woman in a myriad of ways. I am so excited!
Good's next film is "Think Like a Man Too," which is due for release in June. Follow Good on Twitter @MeaganGood.