Community Calender

Greetings! The New Year 2014 has begun, and we are in "GBE Emancipation Month" 2014.
WNYC's annual Martin Luther King Jr. Day celebration goes uptown to the historic Apollo Theater on Sunday, Jan. 19 as part of the Apollo "Uptown Hall" series. This year's event explores the immediate future of New York City through the lens of King's moral compass. Join WNYC's Brian Lehrer and novelist and journalist Farai Chideya for an exploration of emerging leadership in the areas of politics, culture, faith, education and justice. Featuring a distinguished panel and live performances by the Mama Foundation for the Arts' Gospel for Teens Choir as well as brilliant musician Vernon Reid with a Jimi Hendrix-inspired rendition of the "Star-Spangled Banner."
THEATER
Shedding clarity on the African-American community and communism, Ishmael Reed's "The Final Version" is now playing at the Nuyorican Poets Café, 236 E. Third St. directed by and starring Rome Neal with an awesome cast. Call 212-780-9386 or visit nuyorican.org for more information.
"After Midnight," which celebrates the glamour and exuberance of Harlem's Golden Age with the timeless songs of Duke Ellington, Cab Calloway and Harold Arlen woven around the prose of Langston Hughes, is now playing. The production stars Grammy Award winner Fantasia and Emmy Award nominee Dulé Hill ("The West Wing"). The music was by selected the Jazz at Lincoln Center All-Stars.
"Motown: The Musical," with book by Berry Gordy Jr. and featuring Felicia Boswell as Diana Ross, Tony nominee Charl Brown as Smokey Robinson and Brandon Dixon as Berry Gordy, is now playing at the Lunt-Fontanne Theatre, 205 W. 46th St. (between Eighth Avenue and Broadway). For tickets, visit ticketmaster.com or motownthemusical.com.
"Platanos, Collard Greens & Callaloo"—that's right, "Callaloo!" This remix brings Caribbean flava in house. Now playing at Baruch Performing Arts Center, 55 Lexington Ave. (enter on 25th Street between Lexington and Third avenues). For tickets, call TheaterMania at 212-352-3101, visit theatermania.com or visit plantanosandcollardgreens.com.
"Lady Day: The Billie Holiday Musical," featuring Dee Dee Bridgewater and written and directed by Stephen Stahl, is now playing at the Little Shubert Theatre, 422 W. 42nd St. between Ninth and 10th avenues. For tickets and schedule information, call 212-239-6200 or visit Telecharge.com or ladydaythemusical.com.
MUSIC
LiveNation is pleased to present iconic Motown Grammy Achievement winners the Temptations and the Four Tops in a special night of music at the NYCB Theatre at Westbury on Saturday, Jan. 18 at 8 p.m. Tickets are on sale by phone at 800-745-3000, at the Westbury box office or online at www.ticketmaster.com.
"The Queen of Soul," Grammy Award winner Aretha Franklin, appears at Radio City Music Hall on Friday, Jan. 17 and Saturday, Jan. 18. Visit radiocity.musichall-ny.com.
FAMILY
The Big Apple Circus welcomes you to its all-new show, "Luminosity," playing now through Jan. 12 at Lincoln Center! Visit BigAppleCircus.org.
\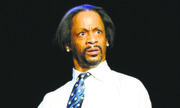 COMEDY
Don't miss the outrageous comedy of Katt Williams live on Friday, Jan. 17 at Newark Symphony Hall. Williams stops in New Jersey as part of his hot new national tour! The show starts at 8 p.m. and takes place at Newark Symphony Hall, 1020 Broad St., Newark, N.J.