Ebony Escapes! Year in review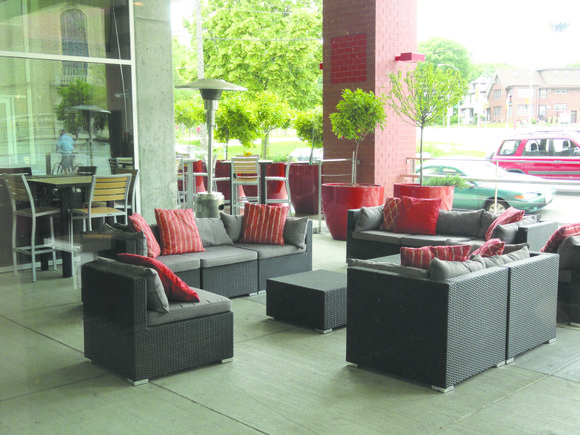 I love the start of a new year! It's a wonderful time to reflect on what has transpired and to look forward to what is on the horizon. This is particularly fun for me with travel—looking back on all the fascinating places I visited and experiences I shared during the past year, in addition to planning out more, sure-to-be amazing adventures to share with you all.
So without further ado, here are some highlights of 2013 to help you with your travel plans for this year and beyond.
COSTA RICA
I started off the year with a bang, traveling to one of my long-time Bucket List locales: Costa Rica. For this particular sojourn, I travelled to the Puntarenas region, Costa Rica's largest province, known as the "Pearl of the Pacific." Among our adventures were lodging at the absolutely fabulous Parador Resort & Spa; zip-lining through the Costa Rican rainforest on a Canopy Safari; visiting Manuel Antonio National Park; and getting a true taste of what Costa Ricans call "pura vida," or "pure life."
PUBLISHED AMSTERDAM NEWS FEATURES
Part 1: http://amsterdamnews.com/news/2013/mar/28/escape-to-costa-rica
Part 2: http://amsterdamnews.com/news/2013/apr/05/exploring-the-pearl-of-the-pacific-in-costa-rica
Part 3: http://amsterdamnews.com/news/2013/may/23/one-last-glorious-day-in-costa-rica
RESOURCE LIST
Canopy Safari: 888-765-8475, http://canopysafari.com
Costa Rica Tourism Board: 011-506-2299-5800, www.VisitCostaRica.com
Go Visit Costa Rica: 800-807-6475, 858-581-9209, www.govisitcostarica.com
Parador Resort & Spa: 877-506-1414, www.hotelparador.com
MADISON, WIS.
I absolutely loved Madison, Wis., with its picturesque landscape, charming people, exceptional food and relaxed and welcoming vibe. Our itinerary included lodging in the beautiful suburb of Middleton, a day trip to Spring Green, an incredible meal prepared by venerable African-American Executive Chef and culinary maestro Rod Ladson, a lake cruise aboard Betty Lou Cruises and a fantastic tour of Frank Lloyd Wright's Taliesin, among other stops. (For a taste of Madison, from Jan. 30-Feb. 9, the city will be presenting their first Hotel Week, offering special packages at $75, $100 or $125 a night.)
PUBLISHED AMSTERDAM NEWS FEATURES Part 1: http://amsterdamnews.com/news/2013/jul/18/madison-delights-and-surprises
Part 2: http://amsterdamnews.com/news/2013/jul/29/lots-love-madison
RESOURCE LIST Betty Lou Cruises: 608-246-3138, www.bettyloucruises.com
Culinary Maestro Rod Ladson: www.madisondining.com/spotlight-on-chef-rod-ladsn-of-johnnys-italian-steakhouse
Frank Lloyd Wright's Taliesin: 877-588-7900, 608-588-7900, www.taliesinpreservation.org
Hotel Week 2014: madisonhotelweek.com
Middleton Tourism Commission: 800-688-5694, http://visitmiddleton.com
The Greater Madison Convention and Visitors Bureau: 608-255-2537, www.visitmadison.com
URBANA-CHAMPAIGN AND DECATUR, ILL.
In the very beginning of my summer road trip to explore the "Land of Lincoln," I embarked upon Highway 72 in Illinois to visit Urbana-Champaign, Decatur and, later, Springfield.
Urbana-Champaign, which encompasses both the city of Champaign and its adjacent neighbor Urbana, is a beautiful little slice of Illinois and the proud home of the University of Illinois. The Spurlock Museum, Big Grove Tavern and Lake of the Woods Forest Preserve are among many highlights.
Although the population is only 75,407 people, it is home to numerous successful Black entrepreneurs, businesses and other entities that stem from its approximately 23 percent African-American population. Among them are the African-American Cultural and Genealogical Society, Martin Christian Radio, All Things Beautiful Collectibles & Gifts and the African American Civil War Soldiers Monument.
PUBLISHED AMSTERDAM NEWS FEATURES
Urbana-Champaign: http://amsterdamnews.com/news/2013/oct/17/beautiful-little-slice-illinois
Decatur: http://amsterdamnews.com/news/2013/oct/10/ebony-escapes-land-lincoln
RESOURCE LIST
Decatur:
African American Civil War Soldiers Monument: http://experiencedecatur.com/historic.php