Victims of police violence oppose new police commissioner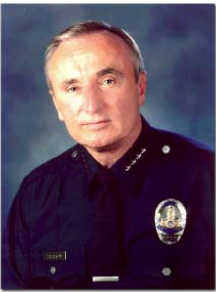 Family members of victims of police violence teamed up with police reform groups recently to protest in front of the Harlem State Office Building. The large crowd voiced their opposition to Mayor Bill de Blasio's choice of Bill Bratton as the new police commissioner.
The father of a young man slain by the police during Bratton's stretch as police commissioner in the 1990s spoke at the rally. "It was painful for me to hear [de Blasio] choose William Bratton, who was police commissioner when my son was murdered," said Nicholas Heyward. His son was playing cops and robbers with his friends in a stairwell in Brooklyn. Housing officer Brian George thought an 18-inch toy rifle was a real gun and fatally shot the boy in the stomach.
"Under William Bratton, there were over 30 innocent unarmed people that were killed from 1994 to 1996 in New York City," said Heyward. "Bill Bratton failed to hold any of those officers accountable."
The Coalition to Stop Police Brutality said that de Blasio's appointment of Bratton is like a knife in the backs of New Yorkers. The group demanded that de Blasio rescind his appointment and work with the community in selecting a commissioner who will signify a break from the past.
The group pointed to a 72-page Amnesty International report. Amnesty International found that in Bratton's first year in office in 1994, there was a 34.8 percent increase in civilians shot dead by the Police Department and a 53.3 percent increase in civilians who died in police custody. From 1994 to 1996, New York saw an explosion in the number of people arrested. In 1994, 198,066 people were arrested. In 1995, 268,057 were arrested. The majority of arrests were for nonviolent misdemeanors.
"Bill Bratton's 'reforms' can only mean more misery and degradation for Black and Latino people," said Heyward. "His appointment is designed to deceive and demobilize all those outraged by racist stop-and-frisk and the escalation of police violence directed against people of color. Bratton's history is part of a slow genocide waged against Black and Latinos. His appointment must be met with determined resistance from all quarters, not celebration."
In a statement, a spokesman for de Blasio's transition team said the new administration is focused on rebuilding trust and communication between police and the communities across the city. "Mayor de Blasio and incoming Police Commissioner Bratton have been in constant contact with neighborhood leaders, clergy and grassroots activists, and will continue to work with communities across the city to enact real reform," said spokesman Phil Walzak. He also noted that the new mayor and the police commissioner would not "overuse" controversial stop-and-frisk interrogations.
Last month, Bratton vowed to maintain the use of stop-and-frisk while repairing the relationship between the police and the city's Blacks and Latinos.