Amiri Baraka remembered
Ron Scott | 1/17/2014, 12:30 p.m.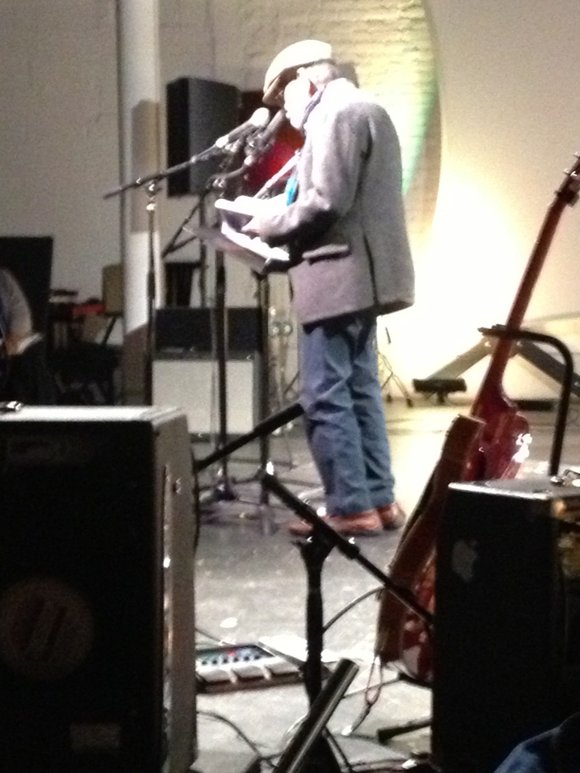 Amiri Baraka, a riveting force armed with words that scurried the battle fields of life and pierced the curtains of falsehoods with hard-hitting truth, died on Jan. 9 at Beth Israel Medical Center, confirmed his son Ras Baraka, a member of the Newark Municipal Council. He was 79.
Amiri Baraka leaves behind a legacy in the literature and political activist communities that will endure the test of time, as he leaves an abundance of written and recorded pearls to keep his many fans focused while inspiring generations to come.
Baraka made a profound statement on America and the world as a college student at Howard University, during the beatnik era of change in Greenwich Village, as a leader of the Black Arts Movement in Harlem, as a playwright for the Obie-winning play "Dutchman," and as a poet, author, critic, bandleader and activist.
"Spoken word" was only Baraka sharing his wisdom while asking the hard questions that became controversial only because no one wanted to deal with the real answers. He was the prerequisite to the Last Poets, Gil Scott-Heron, hip-hop and Russell Simmons' "Def Poetry Jam."
Despite his iconic status, Baraka, born Everett LeRoi Jones on Oct. 7 , 1934, remained a Newark homeboy at heart who never left the neighborhood once he returned after his days in Greenwich Village and Harlem. It was through his community activism that he kept a watchful eye on the politics of Newark and its political officials.
While Baraka never sought public office, his son Ras Baraka, inspired by his father's activism, entered the political arena and recently announced his candidacy in the next mayoral election.
Speaking from the Black Power Movement to Marxism and world liberation movements, Baraka's words were for the folks struggling to get to the top or someplace where equality is a reality. The words are battling for justice for all.

Baraka was the house jazz poet from Newark to Africa; he was the consummate sideman-poet. Onstage, his words soared in the moment with spirited improvisations that instigated foot tapping. He was the first jazz poet, and his fiery words swung fast and hip like bebop—just wanting to get out and be heard. He performed at last year's Vision Festival with the avant-garde genius drummer-percussionist Milford Graves. Baraka once noted that he listened to Thelonious Monk albums every night for a year just to get the music right.
He often collaborated and performed with trombonist-composer Craig S. Harris, and "Tongues of Fire" was one of their jazz-poetry pieces. Sharing his thoughts on jazz panels and lecture circuits around the world was one of Harris' many contributions to the world of universal thought.
One of his last performances was Nov. 22, a benefit for saxophonist Arthur Blythe at the Shapeshifter Lab in Brooklyn, where both Baraka and his wife, Amina, performed.
Baraka described jazz as "the emotional history, culture and aesthetic of a people." He wasn't just a jazz critic; he led his own ensemble, the New Arkestra, performing often in Newark, where jazz was booming during the 1950s through 1970s.